Volume 22, Issue 24, 15/Jun/2017
Eurosurveillance - Volume 22, Issue 24, 15 June 2017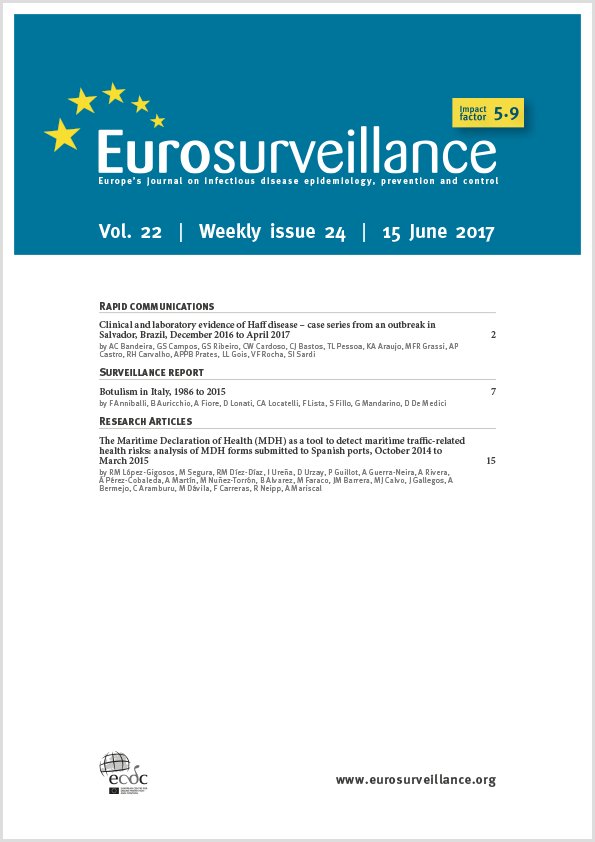 Rapid communication

More

Less

We describe a series of 15 Haff disease cases from an outbreak in Salvador, Brazil, starting early December 2016. Eleven cases were grouped in four family clusters of two to four individuals, four were isolated cases. All but one patient consumed cooked fish; 11 within 24h before symptoms onset. Cases consumed 'Olho de Boi' (Seriola spp.) and 'Badejo' (Mycteroperca spp.). A total of 67 cases were detected, the last case was reported on 5 April 2017.
Surveillance and outbreak report

More

Less

Botulism is a rare but severe neuroparalytic disease caused by botulinum toxins. Because of its high potential impact on public health, botulism is a closely monitored communicable disease in Europe. In Italy, which has one of the highest incidence rates in Europe (0.03 cases per 100,000 population), botulism is monitored through a case-based passive surveillance system: the front-line physician who diagnoses a suspected case must notify the Local Health Units immediately, and the Ministry of Health's office within 12 hours. From 1986 to 2015, 466 confirmed cases of botulism were recorded in Italy (of 1,257 suspected cases). Of these, 421 were food-borne (the most frequently seen form of botulism due to the consumption of improperly home-canned foods), 36 were infant botulism, which accounts for ca 50% of all these types of cases registered in Europe, six were wound-related and three were due to adult intestinal colonisation. This scenario suggests that stronger efforts should be made towards raising public awareness of the risk of food-borne botulism, especially with respect to home-preserved foods, as well as improving the training of front-line medical personnel, to ensure that a quick and accurate diagnosis of botulism can be made.
Research article

Rosa M López-Gigosos , Marina Segura , Rosa M Díez-Díaz , Isabel Ureña , David Urzay , Patricia Guillot , Ana Guerra-Neira , Almudena Rivera , Ángeles Pérez-Cobaleda , Ascensión Martín , María Nuñez-Torrón , Begoña Alvarez , Mar Faraco , José M Barrera , María J Calvo , José Gallegos , Antonio Bermejo , Carmen Aramburu , Miguel Dávila , Fernando Carreras , Rosemarie Neipp and Alberto Mariscal

More

Less

The international maritime traffic of people and goods has often contributed to the spread of pathogens affecting public health. The Maritime Declaration of Health (MDH), according to the International Health Regulations (IHR) (2005), is a document containing data related to the state of health on board a ship during passage and on arrival at port. It is a useful tool for early detection of public health risks. The main objective of our study was to evaluate compliance with the model provided in the IHR, focusing on the format and degree of completion of MDH forms received at Spanish ports. We reviewed the content of 802 MDH forms submitted to nine Spanish ports between October 2014 and March 2015. Study results show that 22% of MDH forms presented did not comply with the recommended model and 39% were incomplete. The proportion of cargo ships with correct and complete MDH forms was lower than passenger ships; thus, the nine health questions were answered less frequently by cargo ships than passenger ships (63% vs 90%, p value < 0.001). The appropriate demand and usage of MDH forms by competent authorities should improve the quality of the document as a tool and improve risk assessment.
Victor M Corman , Olfert Landt , Marco Kaiser , Richard Molenkamp , Adam Meijer , Daniel KW Chu , Tobias Bleicker , Sebastian Brünink , Julia Schneider , Marie Luisa Schmidt , Daphne GJC Mulders , Bart L Haagmans , Bas van der Veer , Sharon van den Brink , Lisa Wijsman , Gabriel Goderski , Jean-Louis Romette , Joanna Ellis , Maria Zambon , Malik Peiris , Herman Goossens , Chantal Reusken , Marion PG Koopmans and Christian Drosten