Volume 22, Issue 26, 29/Jun/2017
Eurosurveillance - Volume 22, Issue 26, 29 June 2017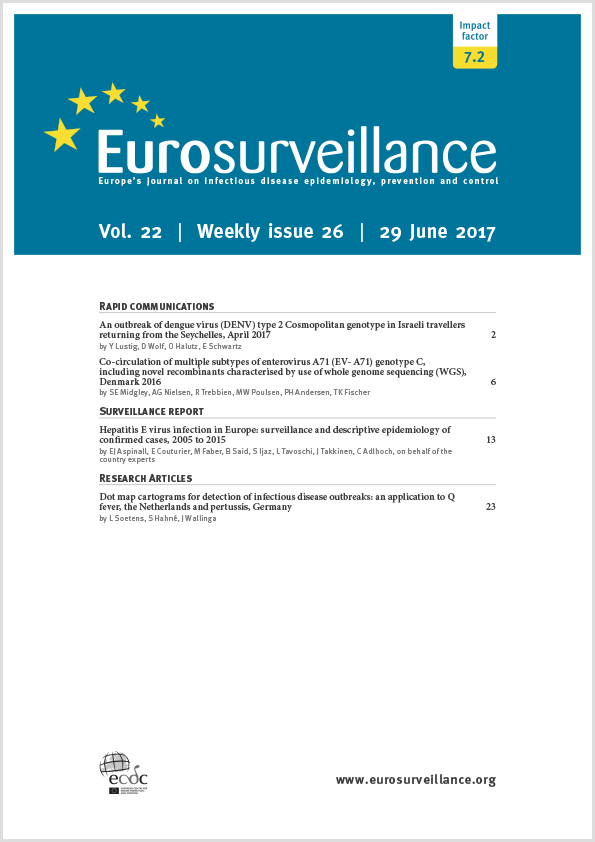 Rapid communication

More

Less

Dengue virus infection was diagnosed in six Israeli travellers returning from the Seychelles in April 2017. Phylogenetic analysis identified identical sequences belonging to the Cosmopolitan genotype of dengue virus type 2 in all samples sequenced, thus providing evidence for a probable dengue type 2 outbreak in the Seychelles. This report further demonstrates the role of travellers as sentinels for arboviral infections, especially in countries with limited diagnostic capabilities.

More

Less

In Europe, enterovirus A71 (EV-A71) has primarily been associated with sporadic cases of neurological disease. The recent emergence of new genotypes and larger outbreaks with severely ill patients demonstrates a potential for the spread of new, highly pathogenic EV-A71 strains. Detection and characterisation of these new emerging EV variants is challenging as standard EV assays may not be adequate, necessitating the use of whole genome analysis.
Surveillance and outbreak report

More

Less

Hepatitis E virus (HEV) is an under-recognised cause of acute hepatitis in high-income countries. The purpose of this study was to provide an overview of testing, diagnosis, surveillance activities, and data on confirmed cases in the European Union/European Economic Area (EU/EEA). A semi-structured survey was developed and sent to 31 EU/EEA countries in February 2016, 30 responded. Twenty of these countries reported that they have specific surveillance systems for HEV infection. Applied specific case definition for HEV infection varied widely across countries. The number of reported cases has increased from 514 cases per year in 2005 to 5,617 in 2015, with most infections being locally acquired. This increase could not be explained by additional countries implementing surveillance for HEV infections over time. Hospitalisations increased from less than 100 in 2005 to more than 1,100 in 2015 and 28 fatal cases were reported over the study period. EU/EEA countries are at different stages in their surveillance, testing schemes and policy response to the emergence of HEV infection in humans. The available data demonstrated a Europe-wide increase in cases. Standardised case definitions and testing policies would allow a better understanding of the epidemiology of HEV as an emerging cause of liver-related morbidity.
Research article

More

Less

Geographical mapping of infectious diseases is an important tool for detecting and characterising outbreaks. Two common mapping methods, dot maps and incidence maps, have important shortcomings. The former does not represent population density and can compromise case privacy, and the latter relies on pre-defined administrative boundaries. We propose a method that overcomes these limitations: dot map cartograms. These create a point pattern of cases while reshaping spatial units, such that spatial area becomes proportional to population size. We compared these dot map cartograms with standard dot maps and incidence maps on four criteria, using two example datasets. Dot map cartograms were able to illustrate both incidence and absolute numbers of cases (criterion 1): they revealed potential source locations (Q fever, the Netherlands) and clusters with high incidence (pertussis, Germany). Unlike incidence maps, they were insensitive to choices regarding spatial scale (criterion 2). Dot map cartograms ensured the privacy of cases (criterion 3) by spatial distortion; however, this occurred at the expense of recognition of locations (criterion 4). We demonstrate that dot map cartograms are a valuable method for detection and visualisation of infectious disease outbreaks, which facilitates informed and appropriate actions by public health professionals, to investigate and control outbreaks.
Victor M Corman , Olfert Landt , Marco Kaiser , Richard Molenkamp , Adam Meijer , Daniel KW Chu , Tobias Bleicker , Sebastian Brünink , Julia Schneider , Marie Luisa Schmidt , Daphne GJC Mulders , Bart L Haagmans , Bas van der Veer , Sharon van den Brink , Lisa Wijsman , Gabriel Goderski , Jean-Louis Romette , Joanna Ellis , Maria Zambon , Malik Peiris , Herman Goossens , Chantal Reusken , Marion PG Koopmans and Christian Drosten