Volume 22, Issue 27, 06/Jul/2017
Eurosurveillance - Volume 22, Issue 27, 06 July 2017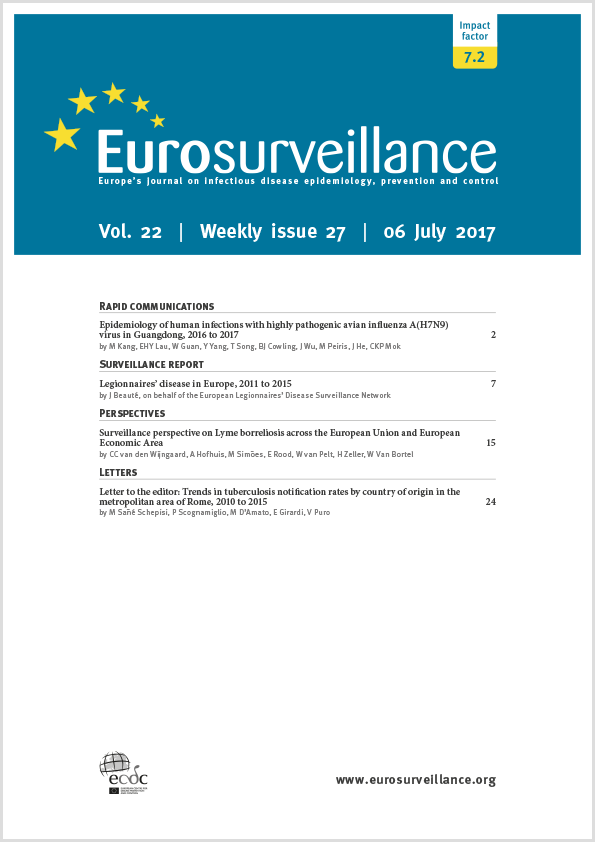 Rapid communication

More

Less

We describe the epidemiology of highly pathogenic avian influenza (HPAI) A(H7N9) based on poultry market environmental surveillance and laboratory-confirmed human cases (n = 9) in Guangdong, China. We also compare the epidemiology between human cases of high- and low-pathogenic avian influenza A(H7N9) (n = 51) in Guangdong. Case fatality and severity were similar. Touching sick or dead poultry was the most important risk factor for HPAI A(H7N9) infections and should be highlighted for the control of future influenza A(H7N9) epidemics.
Surveillance and outbreak report

More

Less

Under the coordination of the European Centre for Disease Prevention and Control (ECDC), the European Legionnaires' disease Surveillance Network (ELDSNet) conducts surveillance of Legionnaires' disease (LD) in Europe. Between 2011 and 2015, 29 countries reported 30,532 LD cases to ECDC (28,188 (92.3%) confirmed and 2,344 (7.7%) probable). Four countries (France, Germany, Italy and Spain) accounted for 70.3% of all reported cases, although their combined populations represented only 49.9% of the study population. The age-standardised rate of all cases increased from 0.97 cases/100,000 population in 2011 to 1.30 cases/100,000 population in 2015, corresponding to an annual average increase of 0.09 cases/100,000 population (95%CI 0.02–0.14; p = 0.02). Demographics and infection setting remained unchanged with ca 70% of cases being community-acquired and 80% occurring in people aged 50 years and older. Clinical outcome was known for 23,164 cases, of whom 2,161 (9.3%) died. The overall case fatality ratio decreased steadily from 10.5% in 2011 to 8.1% in 2015, probably reflecting improved reporting completeness. Five countries (Austria, Czech Republic, Germany, Italy, and Norway) had increasing age-standardised LD notification rates over the 2011−15 period, but there was no increase in notification rates in countries where the 2011 rate was below 0.5/100,000 population.
Perspective

More

Less

Lyme borreliosis (LB) is the most prevalent tick-borne disease in Europe. Erythema migrans (EM), an early, localised skin rash, is its most common presentation. Dissemination of the bacteria can lead to more severe manifestations including skin, neurological, cardiac, musculoskeletal and ocular manifestations. Comparison of LB incidence rates in the European Union (EU)/European Economic Area (EEA) and Balkan countries are difficult in the absence of standardised surveillance and reporting procedures. We explored six surveillance scenarios for LB surveillance in the EU/EEA, based on the following key indicators: (i) erythema migrans, (ii) neuroborreliosis, (iii) all human LB manifestations, (iv) seroprevalence, (v) tick bites, and (vi) infected ticks and reservoir hosts. In our opinion, neuroborreliosis seems most feasible and useful as the standard key indicator, being one of the most frequent severe LB manifestations, with the possibility of a specific case definition. Additional surveillance with erythema migrans as key indicator would add value to the surveillance of neuroborreliosis and lead to a more complete picture of LB epidemiology in the EU/EEA. The other scenarios have less value as a basis for EU-level surveillance, but can be considered periodically and locally, as they could supply complementary insights.
Victor M Corman , Olfert Landt , Marco Kaiser , Richard Molenkamp , Adam Meijer , Daniel KW Chu , Tobias Bleicker , Sebastian Brünink , Julia Schneider , Marie Luisa Schmidt , Daphne GJC Mulders , Bart L Haagmans , Bas van der Veer , Sharon van den Brink , Lisa Wijsman , Gabriel Goderski , Jean-Louis Romette , Joanna Ellis , Maria Zambon , Malik Peiris , Herman Goossens , Chantal Reusken , Marion PG Koopmans and Christian Drosten