Volume 22, Issue 30, 27/Jul/2017
Eurosurveillance - Volume 22, Issue 30, 27 July 2017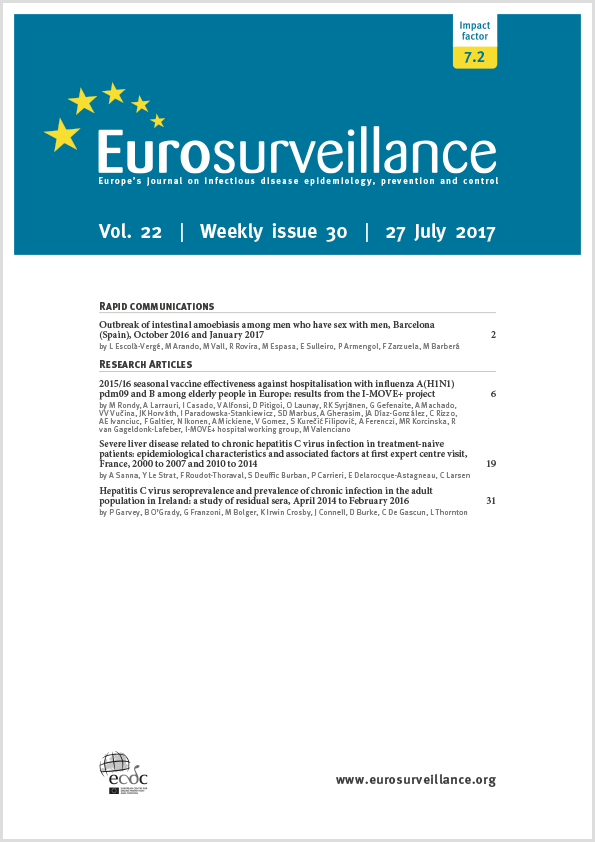 Rapid communication

More

Less

Entamoeba histolytica has been recently recognised as an emerging sexually transmissible pathogen in men who have sex with men (MSM), causing sporadic outbreaks in countries where it is not endemic. Here we report two closed clusters of invasive amoebiasis occurring in Barcelona, Spain, in October 2016 (four cases) and in January 2017 (four cases).
Research article

Marc Rondy , Amparo Larrauri , Itziar Casado , Valeria Alfonsi , Daniela Pitigoi , Odile Launay , Ritva K Syrjänen , Giedre Gefenaite , Ausenda Machado , Vesna Višekruna Vučina , Judith Krisztina Horváth , Iwona Paradowska-Stankiewicz , Sierk D Marbus , Alin Gherasim , Jorge Alberto Díaz-González , Caterina Rizzo , Alina E Ivanciuc , Florence Galtier , Niina Ikonen , Aukse Mickiene , Veronica Gomez , Sanja Kurečić Filipović , Annamária Ferenczi , Monika R Korcinska , Rianne van Gageldonk-Lafeber , I-MOVE+ hospital working group and Marta Valenciano

More

Less

We conducted a multicentre test-negative case–control study in 27 hospitals of 11 European countries to measure 2015/16 influenza vaccine effectiveness (IVE) against hospitalised influenza A(H1N1)pdm09 and B among people aged ≥ 65 years. Patients swabbed within 7 days after onset of symptoms compatible with severe acute respiratory infection were included. Information on demographics, vaccination and underlying conditions was collected. Using logistic regression, we measured IVE adjusted for potential confounders. We included 355 influenza A(H1N1)pdm09 cases, 110 influenza B cases, and 1,274 controls. Adjusted IVE against influenza A(H1N1)pdm09 was 42% (95% confidence interval (CI): 22 to 57). It was 59% (95% CI: 23 to 78), 48% (95% CI: 5 to 71), 43% (95% CI: 8 to 65) and 39% (95% CI: 7 to 60) in patients with diabetes mellitus, cancer, lung and heart disease, respectively. Adjusted IVE against influenza B was 52% (95% CI: 24 to 70). It was 62% (95% CI: 5 to 85), 60% (95% CI: 18 to 80) and 36% (95% CI: -23 to 67) in patients with diabetes mellitus, lung and heart disease, respectively. 2015/16 IVE estimates against hospitalised influenza in elderly people was moderate against influenza A(H1N1)pdm09 and B, including among those with diabetes mellitus, cancer, lung or heart diseases.

More

Less

Given recent profound improvements in the effectiveness of antiviral treatment for chronic Hepatitis C virus (HCV) infection, we aimed to describe the characteristics of patients referred to hepatology expert centres in France from 2000 to 2007 and from 2010 to 2014, and to identify factors associated with severe liver disease at their first visit for evaluation. We analysed data from two sources covering all of France: the former hepatitis C surveillance network, which included patients between 2000 and 2007, and the ANRS CO22 HEPATHER multi-centre cohort, which included patients between 2012 and 2014. Severe liver disease (SLD) was defined as the presence of either cirrhosis (histological, biochemical or clinical) or hepatocellular carcinoma. Multivariable Poisson regression models were used to identify the factors associated with SLD in complete-case analysis and after multiple imputation. Overall, 16,851 patients were included in the analysis and SLD was diagnosed in 11.6%. SLD at first visit was significantly associated with known risk factors (male sex, history of excessive alcohol intake, HCV genotype 3), late referral to hepatologists after diagnosis and HCV diagnosis at an older age. Providing earlier specialised care and treatment may be an important target for public health action.

More

Less

Robust data on hepatitis C virus (HCV) population prevalence are essential to inform national HCV services. In 2016, we undertook a survey to estimate HCV prevalence among the adult population in Ireland. We used anonymised residual sera available at the National Virus Reference Laboratory. We selected a random sample comprising persons ≥ 18 years with probability proportional to the general population age-sex distribution. Anti-HCV and HCV Ag were determined using the Architect anti-HCV and HCV Ag assays. Fifty-three of 3,795 specimens were seropositive (age-sex-area weighted seroprevalence 0.98% (95% confidence interval (CI): 0.73–1.3%)). Thirty-three specimens were HCV-antigen and antibody-positive (age-sex-area weighted prevalence of chronic infection 0.57% (95% CI: 0.40–0.81%)). The prevalence of chronic infection was higher in men (0.91%; 95% CI: 0.61–1.4%), in specimens from the east of the country (1.4%; 95%CI: 0.99–2.0%), and among persons aged 30–39 years and 40–49 years (1.1% (95% CI: 0.59–2.0%) and 1.1% (95% CI: 0.64–1.9%) respectively). Ireland ranks at the lower end of the spectrum of prevalence of chronic HCV infection internationally. Men born between 1965 and 1984 from the east of the country have the highest rate of chronic HCV infection.
Victor M Corman , Olfert Landt , Marco Kaiser , Richard Molenkamp , Adam Meijer , Daniel KW Chu , Tobias Bleicker , Sebastian Brünink , Julia Schneider , Marie Luisa Schmidt , Daphne GJC Mulders , Bart L Haagmans , Bas van der Veer , Sharon van den Brink , Lisa Wijsman , Gabriel Goderski , Jean-Louis Romette , Joanna Ellis , Maria Zambon , Malik Peiris , Herman Goossens , Chantal Reusken , Marion PG Koopmans and Christian Drosten