Volume 22, Issue 37, 14/Sep/2017
Eurosurveillance - Volume 22, Issue 37, 14 September 2017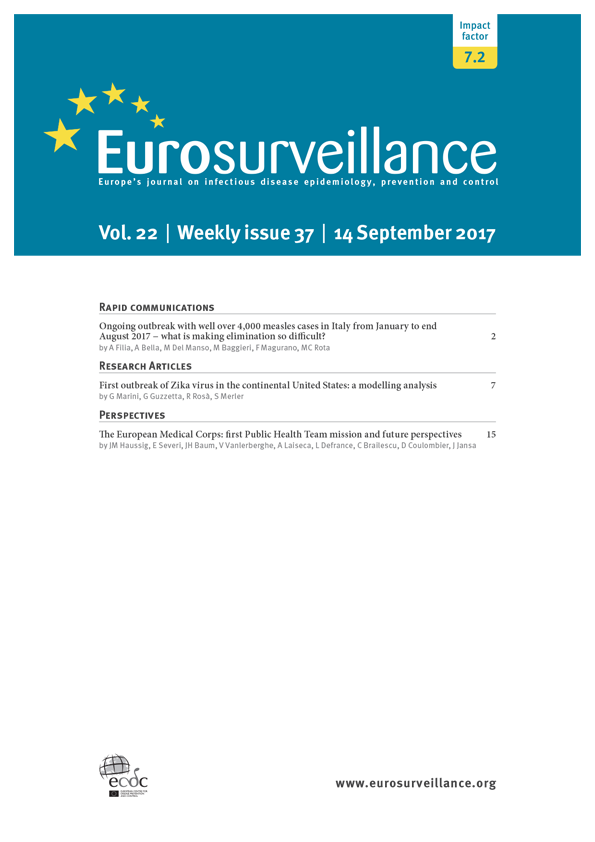 Rapid communication

More

Less

We report an ongoing measles outbreak in Italy, with over 4,400 cases reported in 20 Regions from January to August 2017. Median age was 27 years, 88% of the cases were unvaccinated. The highest incidence was in infants below one year of age and 7% of cases occurred among healthcare workers. Three deaths occurred and two cases of encephalitis were reported. Wide immunity gaps and nosocomial transmission are major challenges to measles elimination in Italy.
Research article

More

Less

Since 2015, Zika virus (ZIKV) has spread throughout Latin and Central America. This emerging infectious disease has been causing considerable public health concern because of severe neurological complications, especially in newborns after congenital infections. In July 2016, the first outbreak in the continental United States was identified in the Wynwood neighbourhood of Miami-Dade County, Florida. In this work, we investigated transmission dynamics using a mathematical model calibrated to observed data on mosquito abundance and symptomatic human infections. We found that, although ZIKV transmission was detected in July 2016, the first importation may have occurred between March and mid-April. The estimated highest value for R0 was 2.73 (95% confidence interval (CI): 1.65–4.17); the attack rate was 14% (95% CI: 5.6–27.4%), with 15 (95% CI: 6–29) pregnant women involved and a 12% probability of infected blood donations. Vector control avoided 60% of potential infections. According to our results, it is likely that further ZIKV outbreaks identified in other areas of Miami-Dade County were seeded by commuters to Wynwood rather than by additional importation from international travellers. Our study can help prepare future outbreak-related interventions in European areas where competent mosquitoes for ZIKV transmission are already established.
Perspective

More

Less

The 2013–2016 Ebola epidemic in West Africa challenged traditional international mechanisms for public health team mobilisation to control outbreaks. Consequently, in February 2016, the European Union (EU) launched the European Medical Corps (EMC), a mechanism developed in collaboration with the World Health Organization (WHO) to rapidly deploy teams and equipment in response to public health emergencies inside and outside the EU. Public Health Teams (PHTs), a component of the EMC, consist of experts in communicable disease prevention and control from participating countries and the European Centre for Disease Prevention and Control (ECDC), to support affected countries and WHO in risk assessment and outbreak response. The European Commission's Directorate-General European Civil Protection and Humanitarian Aid Operations and Directorate-General Health and Food Safety, and ECDC, plan and support deployments. The first EMC-PHT deployment took place in May 2016, with a team sent to Angola for a yellow fever outbreak. The aims were to evaluate transmission risks to local populations and EU citizens in Angola, the risk of regional spread and importation into the EU, and to advise Angolan and EU authorities on control measures. International actors should gain awareness of the EMC, its response capacities and the means for requesting assistance.
Victor M Corman , Olfert Landt , Marco Kaiser , Richard Molenkamp , Adam Meijer , Daniel KW Chu , Tobias Bleicker , Sebastian Brünink , Julia Schneider , Marie Luisa Schmidt , Daphne GJC Mulders , Bart L Haagmans , Bas van der Veer , Sharon van den Brink , Lisa Wijsman , Gabriel Goderski , Jean-Louis Romette , Joanna Ellis , Maria Zambon , Malik Peiris , Herman Goossens , Chantal Reusken , Marion PG Koopmans and Christian Drosten