Volume 22, Issue 39, 28/Sep/2017
Eurosurveillance - Volume 22, Issue 39, 28 September 2017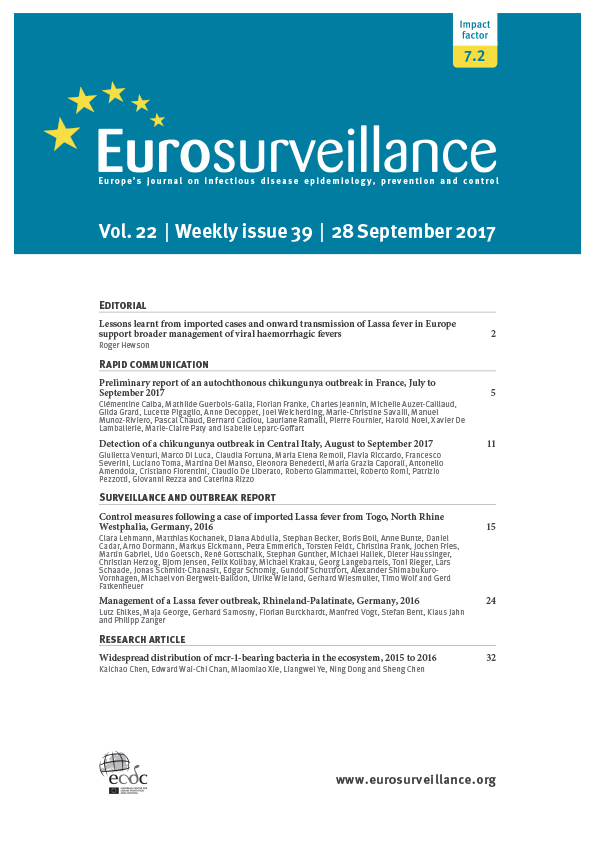 Rapid communication

Clémentine Calba , Mathilde Guerbois-Galla , Florian Franke , Charles Jeannin , Michelle Auzet-Caillaud , Gilda Grard , Lucette Pigaglio , Anne Decoppet , Joel Weicherding , Marie-Christine Savaill , Manuel Munoz-Riviero , Pascal Chaud , Bernard Cadiou , Lauriane Ramalli , Pierre Fournier , Harold Noël , Xavier De Lamballerie , Marie-Claire Paty and Isabelle Leparc-Goffart

More

Less

In August 2017, an autochthonous chikungunya case was reported in south-east France. By mid-September, eight additional autochthonous cases were found in the index case's neighbourhood, where the chikungunya virus vector Aedes albopictus was observed. Genomic characterisation identified an East-Central South African (ECSA) lineage strain, probably from the Central African region and carrying an adaptive mutation facilitating transmission by Ae. albopictus. The event confirms we need early case detection and response to contain chikungunya in Europe.

Giulietta Venturi , Marco Di Luca , Claudia Fortuna , Maria Elena Remoli , Flavia Riccardo , Francesco Severini , Luciano Toma , Martina Del Manso , Eleonora Benedetti , Maria Grazia Caporali , Antonello Amendola , Cristiano Fiorentini , Claudio De Liberato , Roberto Giammattei , Roberto Romi , Patrizio Pezzotti , Giovanni Rezza and Caterina Rizzo

More

Less

An autochthonous chikungunya outbreak is ongoing near Anzio, a coastal town in the province of Rome. The virus isolated from one patient and mosquitoes lacks the A226V mutation and belongs to an East Central South African strain. As of 20 September, 86 cases are laboratory-confirmed. The outbreak proximity to the capital, its late summer occurrence, and diagnostic delays, are favouring transmission. Vector control, enhanced surveillance and restricted blood donations are being implemented in affected areas.
Surveillance and outbreak report

Clara Lehmann , Matthias Kochanek , Diana Abdulla , Stephan Becker , Boris Böll , Anne Bunte , Daniel Cadar , Arno Dormann , Markus Eickmann , Petra Emmerich , Torsten Feldt , Christina Frank , Jochen Fries , Martin Gabriel , Udo Goetsch , René Gottschalk , Stephan Günther , Michael Hallek , Dieter Häussinger , Christian Herzog , Björn Jensen , Felix Kolibay , Michael Krakau , Georg Langebartels , Toni Rieger , Lars Schaade , Jonas Schmidt-Chanasit , Edgar Schömig , Gundolf Schüttfort , Alexander Shimabukuro-Vornhagen , Michael von Bergwelt-Baildon , Ulrike Wieland , Gerhard Wiesmüller , Timo Wolf and Gerd Fätkenheuer

More

Less

In a patient transferred from Togo to Cologne, Germany, Lassa fever was diagnosed 12 days post mortem. Sixty-two contacts in Cologne were categorised according to the level of exposure, and gradual infection control measures were applied. No clinical signs of Lassa virus infection or Lassa specific antibodies were observed in the 62 contacts. Thirty-three individuals had direct contact to blood, other body fluids or tissue of the patients. Notably, with standard precautions, no transmission occurred between the index patient and healthcare workers. However, one secondary infection occurred in an undertaker exposed to the corpse in Rhineland-Palatinate, who was treated on the isolation unit at the University Hospital of Frankfurt. After German authorities raised an alert regarding the imported Lassa fever case, an American healthcare worker who had cared for the index patient in Togo, and who presented with diarrhoea, vomiting and fever, was placed in isolation and medevacked to the United States. The event and the transmission of Lassa virus infection outside of Africa underlines the need for early diagnosis and use of adequate personal protection equipment (PPE), when highly contagious infections cannot be excluded. It also demonstrates that larger outbreaks can be prevented by infection control measures, including standard PPE.

More

Less

Due to rapid diagnosis and isolation of imported cases, community outbreaks of viral haemorrhagic fevers (VHF) are considered unlikely in industrialised countries. In March 2016, the first documented locally acquired case of Lassa fever (LF) outside Africa occurred, demonstrating the disease's potential as a cross-border health threat. We describe the management surrounding this case of LF in Rhineland-Palatinate – the German federal state where secondary transmission occurred. Twelve days after having been exposed to the corpse of a LF case imported from Togo, a symptomatic undertaker tested positive for Lassa virus RNA. Potential contacts were traced, categorised based on exposure risk, and monitored. Overall, we identified 21 contact persons with legal residency in Rhineland-Palatinate: seven related to the index case, 13 to the secondary case, and one related to both. The secondary case received treatment and recovered. Five contacts were quarantined and one was temporarily banned from work. No further transmission occurred. Based on the experience gained during the outbreak and a review of national and international guidelines, we conclude that exposure risk attributable to corpses may currently be underestimated, and we present suggestions that may help to improve the anti-epidemic response to imported VHF cases in industrialised countries.
Research article

More

Less

The recently discovered colistin resistance-encoding element, mcr-1, adds to the list of mobile resistance genes whose products rapidly erode the antimicrobial efficacy of not only the commonly used antibiotics, but also the last line agents of carbapenems and colistin. The relative prevalence of mcr-1-bearing strains in various ecological niches including 1,371 food samples, 480 animal faecal samples, 150 human faecal samples and 34 water samples was surveyed using a novel in-house method. Bacteria bearing mcr-1 were commonly detected in water (71% of samples), animal faeces (51%), food products (36%), and exhibited stable carriage in 28% of human subjects surveyed. Such strains, which exhibited variable antibiotic susceptibility profiles, belonged to various Enterobacteriaceae species, with Escherichia coli being the most dominant in each specimen type. The mcr-1 gene was detectable in the chromosome as well as plasmids of various sizes. Among these, two conjugative plasmids of sizes ca 33 and ca 60 kb were found to be the key vectors that mediated mcr-1 transmission in organisms residing in various ecological niches. The high mcr-1 carriage rate in humans found in this study highlights the importance of continued vigilance, careful antibiotic stewardship, and the development of new antimicrobials.
Victor M Corman , Olfert Landt , Marco Kaiser , Richard Molenkamp , Adam Meijer , Daniel KW Chu , Tobias Bleicker , Sebastian Brünink , Julia Schneider , Marie Luisa Schmidt , Daphne GJC Mulders , Bart L Haagmans , Bas van der Veer , Sharon van den Brink , Lisa Wijsman , Gabriel Goderski , Jean-Louis Romette , Joanna Ellis , Maria Zambon , Malik Peiris , Herman Goossens , Chantal Reusken , Marion PG Koopmans and Christian Drosten