Volume 22, Issue 41, 12/Oct/2017
Eurosurveillance - Volume 22, Issue 41, 12 October 2017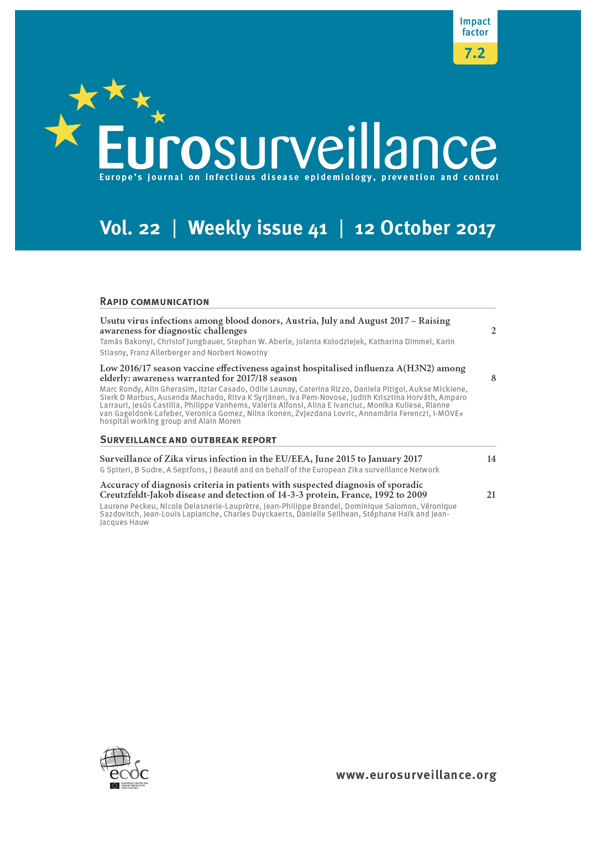 Rapid communication

More

Less

Between July and August 2017, seven of 12,047 blood donations from eastern Austria, reacted positive to West Nile virus (WNV) in the cobas test (Roche). Follow-up investigations revealed Usutu virus (USUV) nucleic acid in six of these. Retrospective analyses of four blood donors diagnosed as WNV-infected in 2016 showed one USUV positive. Blood transfusion services and public health authorities in USUV-endemic areas should be aware of a possible increase of human USUV infections.

Marc Rondy , Alin Gherasim , Itziar Casado , Odile Launay , Caterina Rizzo , Daniela Pitigoi , Aukse Mickiene , Sierk D Marbus , Ausenda Machado , Ritva K Syrjänen , Iva Pem-Novose , Judith Krisztina Horváth , Amparo Larrauri , Jesús Castilla , Philippe Vanhems , Valeria Alfonsi , Alina E Ivanciuc , Monika Kuliese , Rianne van Gageldonk-Lafeber , Veronica Gomez , Niina Ikonen , Zvjezdana Lovric , Annamária Ferenczi , I-MOVE+ hospital working group and Alain Moren

More

Less

In a multicentre European hospital study we measured influenza vaccine effectiveness (IVE) against A(H3N2) in 2016/17. Adjusted IVE was 17% (95% confidence interval (CI): 1 to 31) overall; 25% (95% CI: 2 to 43) among 65–79-year-olds and 13% (95% CI: −15 to 30) among those ≥ 80 years. As the A(H3N2) vaccine component has not changed for 2017/18, physicians and public health experts should be aware that IVE could be low where A(H3N2) viruses predominate.
Surveillance and outbreak report

More

Less

Surveillance of Zika virus (ZIKV) infection in the European Union/European Economic Area (EU/EEA) was implemented in 2016 in response to the large outbreak reported in the Americas in 2015 associated with an increased number of infants born with microcephaly. Between June 2015 and January 2017, 21 EU/EEA countries reported 2,133 confirmed cases of ZIKV infection, of whom 106 were pregnant women. Cases infected in the Caribbean constituted 71% of reported cases. Almost all cases (99%) were most probably infected by mosquito bite during travel outside continental Europe, while only 1% were transmitted sexually. Considering that 584 imported cases were reported between May and October 2016 among residents of areas with established presence of Aedes albopictus, the absence of autochthonous vector-borne cases suggests that Ae. albopictus is not an efficient vector for ZIKV infection.

More

Less

Diagnostic criteria of Creutzfeldt–Jakob disease (CJD), a rare and fatal transmissible nervous system disease with public health implications, are determined by clinical data, electroencephalogram (EEG), detection of 14-3-3 protein in cerebrospinal fluid (CSF), brain magnetic resonance imaging and prion protein gene examination. The specificity of protein 14-3-3 has been questioned. We reviewed data from 1,572 autopsied patients collected over an 18-year period (1992–2009) and assessed whether and how 14-3-3 detection impacted the diagnosis of sporadic CJD in France, and whether this led to the misdiagnosis of treatable disorders. 14-3-3 detection was introduced into diagnostic criteria for CJD in 1998. Diagnostic accuracy decreased from 92% for the 1992–1997 period to 85% for the 1998–2009 period. This was associated with positive detections of 14-3-3 in cases with negative EEG and alternative diagnosis at autopsy. Potentially treatable diseases were found in 163 patients (10.5%). This study confirms the usefulness of the recent modification of diagnosis criteria by the addition of the results of CSF real-time quaking-induced conversion, a method based on prion seed-induced misfolding and aggregation of recombinant prion protein substrate that has proven to be a highly specific test for diagnosis of sporadic CJD.
Victor M Corman , Olfert Landt , Marco Kaiser , Richard Molenkamp , Adam Meijer , Daniel KW Chu , Tobias Bleicker , Sebastian Brünink , Julia Schneider , Marie Luisa Schmidt , Daphne GJC Mulders , Bart L Haagmans , Bas van der Veer , Sharon van den Brink , Lisa Wijsman , Gabriel Goderski , Jean-Louis Romette , Joanna Ellis , Maria Zambon , Malik Peiris , Herman Goossens , Chantal Reusken , Marion PG Koopmans and Christian Drosten