Volume 22, Issue 42, 19/Oct/2017
Eurosurveillance - Volume 22, Issue 42, 19 October 2017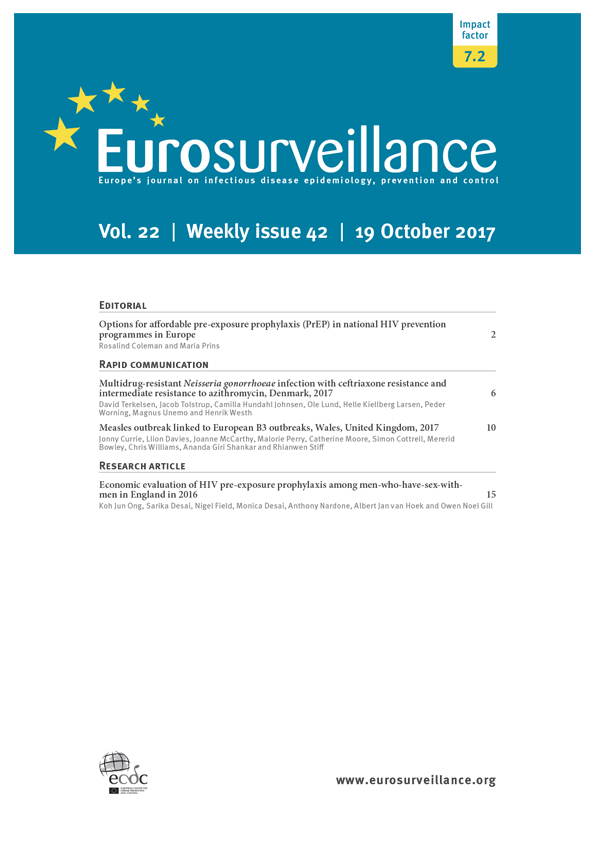 Rapid communication

More

Less

We describe a multidrug-resistant Neisseria gonorrhoeae infection with ceftriaxone resistance and azithromycin intermediate resistance in a heterosexual man in Denmark, 2017. Whole genome sequencing of the strain GK124 identified MSLT ST1903, NG-MAST ST1614 and all relevant resistance determinants including similar penA resistance mutations previously described in ceftriaxone-resistant gonococcal strains. Although treatment with ceftriaxone 0.5 g plus azithromycin 2 g was successful, increased awareness of spread of gonococcal strains threatening the recommended dual therapy is crucial.

More

Less

The United Kingdom achieved interrupted endemic measles transmission for 36 months in 2016. Despite this, ongoing challenges from sporadic measles cases typically imported from abroad remain. We summarise a B3 measles genotype outbreak in south-east Wales occurring between May and September 2017, linked with other European outbreaks, and lessons learnt. Seventeen confirmed cases and one probable case occurred principally in education and healthcare-settings. Six confirmed cases attended healthcare settings when infectious, without being isolated.
Research article

More

Less

Clinical effectiveness of pre-exposure prophylaxis (PrEP) for preventing HIV acquisition in men who have sex with men (MSM) at high HIV risk is established. A static decision analytical model was constructed to inform policy prioritisation in England around cost-effectiveness and budgetary impact of a PrEP programme covering 5,000 MSM during an initial high-risk period. National genitourinary medicine clinic surveillance data informed key HIV risk assumptions. Pragmatic large-scale implementation scenarios were explored. At 86% effectiveness, PrEP given to 5,000 MSM at 3.3 per 100 person-years annual HIV incidence, assuming risk compensation (20% HIV incidence increase), averted 118 HIV infections over remaining lifetimes and was cost saving. Lower effectiveness (64%) gave an incremental cost-effectiveness ratio of + GBP 23,500 (EUR 32,000) per quality-adjusted life year (QALY) gained. Investment of GBP 26.9 million (EUR 36.6 million) in year-1 breaks even anywhere from year-23 (86% effectiveness) to year-33 (64% effectiveness). PrEP cost-effectiveness was highly sensitive to year-1 HIV incidence, PrEP adherence/effectiveness, and antiretroviral drug costs. There is much uncertainty around HIV incidence in those given PrEP and adherence/effectiveness, especially under programme scale-up. Substantially reduced PrEP drug costs are needed to give the necessary assurance of cost-effectiveness, and for an affordable public health programme of sufficient size.
Victor M Corman , Olfert Landt , Marco Kaiser , Richard Molenkamp , Adam Meijer , Daniel KW Chu , Tobias Bleicker , Sebastian Brünink , Julia Schneider , Marie Luisa Schmidt , Daphne GJC Mulders , Bart L Haagmans , Bas van der Veer , Sharon van den Brink , Lisa Wijsman , Gabriel Goderski , Jean-Louis Romette , Joanna Ellis , Maria Zambon , Malik Peiris , Herman Goossens , Chantal Reusken , Marion PG Koopmans and Christian Drosten