Volume 22, Issue 46, 16/Nov/2017
Eurosurveillance - Volume 22, Issue 46, 16 November 2017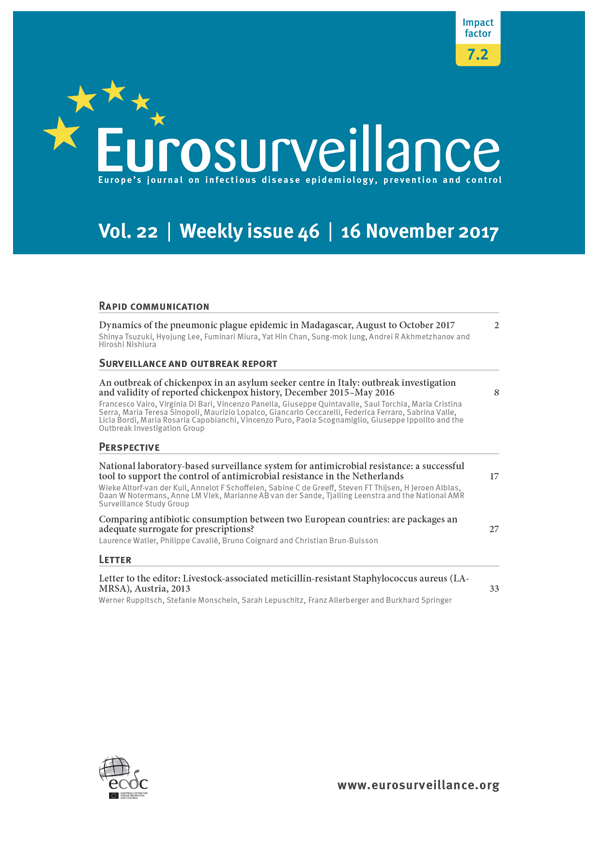 Rapid communication

More

Less

Transmission potential and severity of pneumonic plague in Madagascar were assessed. Accounting for reporting delay, the reproduction number was estimated at 1.73. The case fatality risk was estimated as 5.5%. Expected numbers of exported cases from Madagascar were estimated across the world and all estimates were below 1 person from August to October, 2017.
Surveillance and outbreak report

Francesco Vairo , Virginia Di Bari , Vincenzo Panella , Giuseppe Quintavalle , Saul Torchia , Maria Cristina Serra , Maria Teresa Sinopoli , Maurizio Lopalco , Giancarlo Ceccarelli , Federica Ferraro , Sabrina Valle , Licia Bordi , Maria Rosaria Capobianchi , Vincenzo Puro , Paola Scognamiglio , Giuseppe Ippolito and the Outbreak Investigation Group

More

Less

An outbreak of chickenpox occurred between December 2015 and May 2016 among asylum seekers in a reception centre in Latium, Italy. We describe the epidemiological and laboratory investigations, control measures and validity of reported history of chickenpox infection. Serological screening of all residents and incoming asylum seekers was performed, followed by vaccine offer to all susceptible individuals without contraindication. Forty-six cases were found and 41 were associated with the outbreak. No complications, hospitalisations or deaths occurred. Serological testing was performed in 1,278 individuals and 169 were found to be susceptible, with a seroprevalence of 86.8%. A questionnaire was administered to 336 individuals consecutively attending the CARA health post to collect their serological result. The sensitivity, specificity and the positive and negative predictive value (PPV and NPV) of the reported history of chickenpox were 45.0%, 76.1%, 88.3% and 25.6%, respectively. We observed an increasing trend for the PPV and decreasing trend for the NPV with increasing age. Our report confirms that, in the asylum seeker population, chickenpox history is not the optimal method to identify susceptible individuals. Our experience supports the need for additional prevention and control measures and highlights the importance of national and local surveillance systems for reception centres.
Perspective

More

Less

An important cornerstone in the control of antimicrobial resistance (AMR) is a well-designed quantitative system for the surveillance of spread and temporal trends in AMR. Since 2008, the Dutch national AMR surveillance system, based on routine data from medical microbiological laboratories (MMLs), has developed into a successful tool to support the control of AMR in the Netherlands. It provides background information for policy making in public health and healthcare services, supports development of empirical antibiotic therapy guidelines and facilitates in-depth research. In addition, participation of the MMLs in the national AMR surveillance network has contributed to sharing of knowledge and quality improvement. A future improvement will be the implementation of a new semantic standard together with standardised data transfer, which will reduce errors in data handling and enable a more real-time surveillance. Furthermore, the scientific impact and the possibility of detecting outbreaks may be amplified by merging the AMR surveillance database with databases from selected pathogen-based surveillance programmes containing patient data and genotypic typing data.

More

Less

Defined daily doses (DDD) are the gold standard indicator for quantifying prescriptions. Since 2014, the European Centre for Disease Prevention and Control (ECDC) has also been using the number of packages per 1,000 inhabitants per day (ipd), as a surrogate for prescriptions, to report antibiotic consumption in the community and to perform comparisons between European Union (EU) countries participating in the European Surveillance of Antimicrobial Consumption Network (ESAC-Net). In 2015, consumption was reported to range across Europe from 1.0 to 4.7 packages per 1,000 ipd. Our analysis showed that consumption of antibiotics for systemic use per 1,000 ipd was on average 1.3 times greater in France than in Belgium when considering prescriptions in the numerator, 2.5 times greater when considering packages and 1.2 times greater when considering DDD. As long as the same metrics are used over time, antibiotic consumption data aggregated and disseminated by ECDC are useful for assessing temporal trends at the European level and within individual countries; these data may also be used for benchmarking across EU countries. While DDD - although imperfect - are the most widely accepted metric for this purpose, antibiotic packages do not appear suitable for comparisons between countries and may be misleading.
Victor M Corman , Olfert Landt , Marco Kaiser , Richard Molenkamp , Adam Meijer , Daniel KW Chu , Tobias Bleicker , Sebastian Brünink , Julia Schneider , Marie Luisa Schmidt , Daphne GJC Mulders , Bart L Haagmans , Bas van der Veer , Sharon van den Brink , Lisa Wijsman , Gabriel Goderski , Jean-Louis Romette , Joanna Ellis , Maria Zambon , Malik Peiris , Herman Goossens , Chantal Reusken , Marion PG Koopmans and Christian Drosten