Volume 22, Issue 47, 23/Nov/2017
Eurosurveillance - Volume 22, Issue 47, 23 November 2017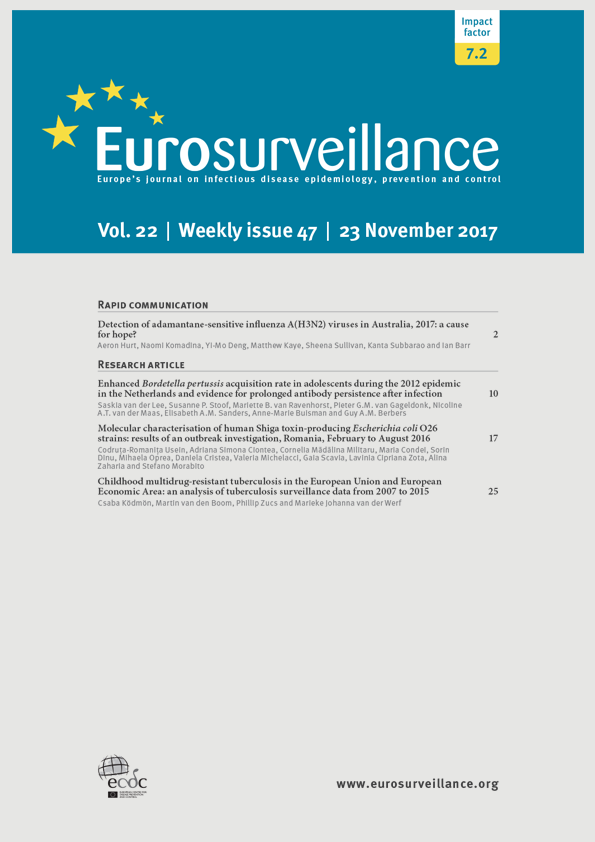 Rapid communication

More

Less

For over a decade virtually all A(H3N2) influenza viruses have been resistant to the adamantane class of antivirals. However, during the 2017 influenza season in Australia, 15/461 (3.3%) adamantane-sensitive A(H3N2) viruses encoding serine at residue 31 of the M2 protein were detected, more than the total number identified globally during the last 6 years. A return to wide circulation of adamantane-sensitive A(H3N2) viruses would revive the option of using these drugs for treatment and prophylaxis.
Research article

More

Less

Introduction

In 2012 a large epidemic of pertussis occurred in the Netherlands. We assessed pertussis toxin (PT) antibody levels in longitudinal serum samples from Dutch 10–18 year-olds, encompassing the epidemic, to investigate pertussis infection incidence. Methods: Blood was sampled in October 2011 (n = 239 adolescents), then 1 year (2012; n = 228) and 3 years (2014; n = 167) later. PT-IgG concentrations were measured by immunoassay and concentrations ≥50 IU/mL (seropositive) assumed indicative of an infection within the preceding year. Results: During the 2012 epidemic, 10% of participants became seropositive, while this was just 3% after the epidemic. The pertussis acquisition rate proved to be sixfold higher during the epidemic (97 per 1,000 person-years) compared with 2012–2014 (16 per 1,000 person-years). In 2012, pertussis notifications among adolescents nationwide were 228/100,000 (0.23%), which is at least 40 times lower than the seropositivity percentage. Remarkably, 17 of the 22 seropositive participants in 2011, were still seropositive in 2012 and nine remained seropositive for at least 3 years. Discussion: Longitudinal studies allow a better estimation of pertussis infections in the population. A PT-IgG concentration ≥50 IU/mL as indication of recent infection may overestimate these numbers in cross-sectional serosurveillance and should be used carefully.

More

Less

Introduction

At the beginning of 2016, an increase in paediatric haemolytic uremic syndrome (HUS) cases was observed in Romania. The microbiological investigations allowed isolation of Shiga toxin-producing Escherichia coli (STEC) O26 as the causative agent from most cases. Methods: An enhanced national surveillance of HUS and severe diarrhoea was established across the country following the identification of the first cases and was carried out until August 2016. A total of 15 strains were isolated from 10 HUS and five diarrhoea cases. Strains were characterised by virulence markers (i.e. stx type/subtype, eae, ehxA genes), phylogroup, genetic relatedness and clonality using PCR-based assays, PFGE and multilocus sequence typing (MLST). The first six strains were further characterised by whole genome sequencing (WGS). Results: Five PCR-defined genotypes were distinguished. All strains from HUS cases harboured stx2a and eae, with or without stx1a, while strains from diarrhoea cases carried exclusively stx1a and eae genes. PFGE resolved strains into multiple pulsotypes, compatible with a certain geographic segregation of the cases, and strains were assigned to phylogroup B1 and sequence type (ST) 21. WGS confirmed the results of conventional molecular methods, brought evidence of O26:H11 serotype, and complemented the virulence profiles. Discussion/conclusion: This first description of STEC O26 strains from cases in Romania showed that the isolates belonged to a diverse population. The virulence content of most strains highlighted a high risk for severe outcome in infected patients. Improving the national surveillance strategy for STEC infections in Romania needs to be further considered.

More

Less

Background

Confirming tuberculosis (TB) in children and obtaining information on drug susceptibility is essential to ensure adequate treatment. We assessed whether there are gaps in diagnosis and treatment of multidrug-resistant (MDR) TB in children in the European Union and European Economic Area (EU/EEA), quantified the burden of MDR TB in children and characterised cases. Methods: We analysed surveillance data from 2007 to 2015 for paediatric cases younger than 15 years. Results: In that period, 26 EU/EEA countries reported 18,826 paediatric TB cases of whom 4,129 (21.9%) were laboratory-confirmed. Drug susceptibility testing results were available for 3,378 (17.9%), representing 81.8% of the confirmed cases. The majority (n = 2,967; 87.8%) had drug-sensitive TB, 249 (7.4%) mono-resistant TB, 64 (1.9%) poly-resistant TB, 90 (2.7%) MDR TB and eight (0.2%) had extensively drug-resistant (XDR) TB. MDR TB was more frequently reported among paediatric cases with foreign background (adjusted odds ratio (aOR) = 1.73; 95% confidence interval (95% CI): 1.12–2.67) or previous TB treatment (aOR: 6.42; 95% CI: 3.24–12.75). Successful treatment outcome was reported for 58 of 74 paediatric MDR TB cases with outcome reported from 2007 to 2013; only the group of 5–9 years-olds was significantly associated with unsuccessful treatment outcome (crude odds ratio (cOR) = 11.45; 95% CI: 1.24–106.04). Conclusions: The burden of MDR TB in children in the EU/EEA appears low, but may be underestimated owing to challenges in laboratory confirmation. Diagnostic improvements are needed for early detection and adequate treatment of MDR TB. Children previously treated for TB or of foreign origin may warrant higher attention.
Victor M Corman , Olfert Landt , Marco Kaiser , Richard Molenkamp , Adam Meijer , Daniel KW Chu , Tobias Bleicker , Sebastian Brünink , Julia Schneider , Marie Luisa Schmidt , Daphne GJC Mulders , Bart L Haagmans , Bas van der Veer , Sharon van den Brink , Lisa Wijsman , Gabriel Goderski , Jean-Louis Romette , Joanna Ellis , Maria Zambon , Malik Peiris , Herman Goossens , Chantal Reusken , Marion PG Koopmans and Christian Drosten