Volume 22, Issue 49, 07/Dec/2017
Eurosurveillance - Volume 22, Issue 49, 07 December 2017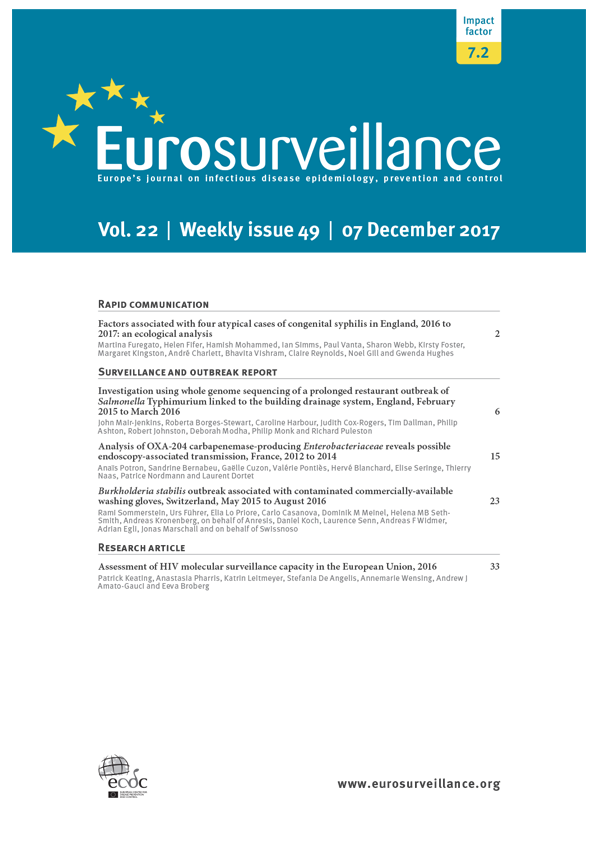 Rapid communication

More

Less

Four isolated cases of congenital syphilis born to mothers who screened syphilis negative in the first trimester were identified between March 2016 and January 2017 compared with three cases between 2010 and 2015. The mothers were United Kingdom-born and had no syphilis risk factors. Cases occurred in areas with recent increases in sexually-transmitted syphilis among women and men who have sex with men, some behaviourally bisexual, which may have facilitated bridging between sexual networks.
Surveillance and outbreak report
Research article

More

Less

Introduction

Expanding access to HIV antiretroviral treatment is expected to decrease HIV incidence and acquired immunodeficiency syndrome (AIDS) mortality. However, this may also result in increased HIV drug resistance (DR). Better monitoring and surveillance of HIV DR is required to inform treatment regimens and maintain the long term effectiveness of antiretroviral drugs. As there is currently no formal European Union (EU)-wide collection of HIV DR data, this study aimed to assess the current HIV molecular surveillance capacity in EU/European Economic Area (EEA) countries in order to inform the planning of HIV DR monitoring at EU level. Methods: Thirty EU/EEA countries were invited to participate in a survey on HIV molecular surveillance capacity, which also included laboratory aspects. Results: Among 21 responding countries, 13 reported using HIV sequence data (subtype and/or DR) for surveillance purposes at national level. Of those, nine stated that clinical, epidemiological and sequence data were routinely linked for analysis. Discussion/conclusion: We identified similarities between existing HIV molecular surveillance systems, but also found important challenges including human resources, data ownership and legal issues that would need to be addressed.Information on capacities should allow better planning of the phased introduction of HIV DR surveillance at EU/EEA level.
Victor M Corman , Olfert Landt , Marco Kaiser , Richard Molenkamp , Adam Meijer , Daniel KW Chu , Tobias Bleicker , Sebastian Brünink , Julia Schneider , Marie Luisa Schmidt , Daphne GJC Mulders , Bart L Haagmans , Bas van der Veer , Sharon van den Brink , Lisa Wijsman , Gabriel Goderski , Jean-Louis Romette , Joanna Ellis , Maria Zambon , Malik Peiris , Herman Goossens , Chantal Reusken , Marion PG Koopmans and Christian Drosten