Volume 22, Issue 49, 07/Dec/2017
Eurosurveillance - Volume 22, Issue 49, 07 December 2017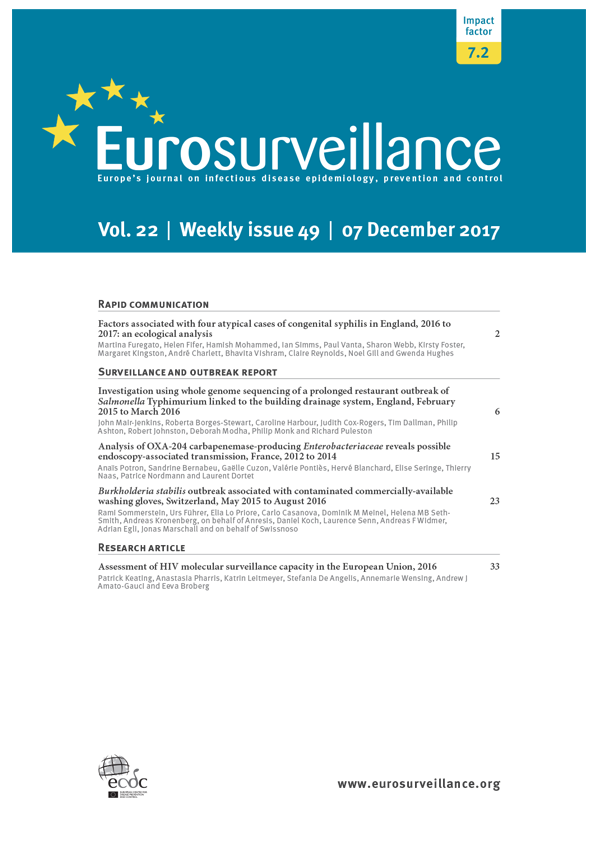 Rapid communication

More

Less

Four isolated cases of congenital syphilis born to mothers who screened syphilis negative in the first trimester were identified between March 2016 and January 2017 compared with three cases between 2010 and 2015. The mothers were United Kingdom-born and had no syphilis risk factors. Cases occurred in areas with recent increases in sexually-transmitted syphilis among women and men who have sex with men, some behaviourally bisexual, which may have facilitated bridging between sexual networks.
Surveillance and outbreak report

More

Less

Following notification of a Salmonella enterica serovar Typhimurium gastroenteritis outbreak, we identified 82 cases linked to a restaurant with symptom onset from 12 February 2015 to 8 March 2016. Seventy-two cases had an isolate matching the nationally unique whole genome sequencing profile (single nucleotide polymorphism (SNP) address: 1.1.1.124.395.395). Interviews established exposure to the restaurant and subsequent case–control analysis identified an association with eating carvery buffet food (adjusted odds ratios (AOR): 20.9; 95% confidence interval (CI): 2.2 – ∞). Environmental inspections, food/water testing, and a food trace-back investigation were inconclusive. Repeated cycles of cleaning were undertaken, including hydrogen peroxide fogging, however, transmission continued. After 7 months of investigation, environmental swabbing identified 106 isolates from kitchen surfaces and restaurant drains matching the outbreak profile. We found structural faults with the drainage system and hypothesised that a reservoir of bacteria in drain biofilm and underfloor flooded areas may have sustained this outbreak. Ineffective drain water-traps (U-bends) may have also contributed by allowing transmission of contaminated aerosols into the kitchen environment. These findings suggest that routine swabbing of sink drain points and inspection of drainage systems should be considered in future outbreak scenarios.

More

Less

OXA-48-like beta-lactamase producing bacteria are now endemic in several European and Mediterranean countries. Among this carbapenemase family, the OXA-48 and OXA-181 variants predominate, whereas other variants such as OXA-204 are rarely reported. Here, we report the molecular epidemiology of a collection of OXA-204-positive enterobacterial isolates (n = 29) recovered in France between October 2012 and May 2014. This study describes the first outbreak of OXA-204-producing Enterobacteriaceae in Europe, involving 12 isolates of an ST90 Escherichia coli clone and nine isolates of an ST147 Klebsiella pneumoniae clone. All isolates co-produced the cephalosporinase CMY-4, and 60% of them co-produced the extended-spectrum beta-lactamase CTX-M-15. The blaOXA-204 gene was located on a 150-kb IncA/C plasmid, isolated from various enterobacterial species in the same patient, indicating a high conjugative ability of this genetic vehicle.

More

Less

We describe an outbreak of Burkholderia stabilis associated with contaminated washing gloves, a commercially available Class I medical device. Triggered by an increase in Burkholderia cepacia complex (BCC) bacteremias and the detection of BCC in unopened packages of washing gloves, an ad hoc national outbreak committee comprising representatives of a public health organisation, a regulatory agency, and an expert association convened and commissioned an outbreak investigation. The investigation included retrospective case finding across Switzerland and whole genome sequencing (WGS) of isolates from cases and gloves. The investigation revealed that BCC were detected in clinical samples of 46 cases aged 17 to 91 years (33% females) from nine institutions between May 2015 and August 2016. Twenty-two isolates from case patients and 16 from washing gloves underwent WGS. All available outbreak isolates clustered within a span of < 19 differing alleles, while 13 unrelated clinical isolates differed by > 1,500 alleles. This BCC outbreak was rapidly identified, communicated, investigated and halted by an ad hoc collaboration of multiple stakeholders. WGS served as useful tool for confirming the source of the outbreak. This outbreak also highlights current regulatory limitations regarding Class I medical devices and the usefulness of a nationally coordinated outbreak response.
Research article

More

Less

Introduction

Expanding access to HIV antiretroviral treatment is expected to decrease HIV incidence and acquired immunodeficiency syndrome (AIDS) mortality. However, this may also result in increased HIV drug resistance (DR). Better monitoring and surveillance of HIV DR is required to inform treatment regimens and maintain the long term effectiveness of antiretroviral drugs. As there is currently no formal European Union (EU)-wide collection of HIV DR data, this study aimed to assess the current HIV molecular surveillance capacity in EU/European Economic Area (EEA) countries in order to inform the planning of HIV DR monitoring at EU level. Methods: Thirty EU/EEA countries were invited to participate in a survey on HIV molecular surveillance capacity, which also included laboratory aspects. Results: Among 21 responding countries, 13 reported using HIV sequence data (subtype and/or DR) for surveillance purposes at national level. Of those, nine stated that clinical, epidemiological and sequence data were routinely linked for analysis. Discussion/conclusion: We identified similarities between existing HIV molecular surveillance systems, but also found important challenges including human resources, data ownership and legal issues that would need to be addressed.Information on capacities should allow better planning of the phased introduction of HIV DR surveillance at EU/EEA level.