Volume 12, Issue 10, 08/Mar/2007
Weekly releases (1997–2007) - Volume 12, Issue 10, 08 March 2007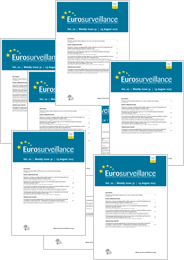 Articles

More

Less

In February 2007, three patients received HIV-positive organs as a result of an error made in the documentation by an employee at the hospital in northern Italy where the organs had been taken for transplant.

More

Less

The ICC Cricket World Cup (CWC) is the world's third largest sporting event. (...) As with any mass gathering, there is an added public health risk [1]. Some of the visitors are coming from countries where infectious diseases are either endemic or capable of creating an epidemic.

More

Less

This winter, the consultation rates for influenza like illness (ILI) and/or acute respiratory infection (ARI) started to increase firstly in Scotland, Greece and Spain in December 2006 [1], where they have already returned to levels just above or at the baseline.
R Angelini , A C Finarelli , P Angelini , C Po , K Petropulacos , G Silvi , P Macini , C Fortuna , G Venturi , F Magurano , C Fiorentini , A Marchi , E Benedetti , P Bucci , S Boros , R Romi , G Majori , M G Ciufolini , L Nicoletti , G Rezza and A Cassone