Volume 12, Issue 15, 12/Apr/2007
Weekly releases (1997–2007) - Volume 12, Issue 15, 12 April 2007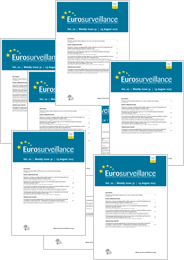 Articles

More

Less

Community-acquired methicillin-resistant Staphylococcus aureus (CA-MRSA) have been increasingly frequently isolated from patients in many areas of the United States, and have started to replace hospital-acquired MRSA (HA-MRSA) as a cause of healthcare-associated infections. This article, describes the first Italian case of CA-MRSA skin and soft tissue infection (SSTI).

More

Less

Since 2002, Bulgaria has been a member of the European Working Group for Legionella Infections (EWGLI), and since July 2005, legionellosis has been a mandatorily notifiable disease in our country. This paper describes the first cluster of travel-associated legionnaires' disease detected in Bulgarian patients.

More

Less

European Immunization Week is due to take place this year between 16 and 22 April across the continent. The initiative, which is coordinated by the World Health Organization Regional Office for Europe (WHO Europe) with support from organisations such as the European Centre for Disease Prevention and Control (ECDC), was conceived in 2004 as a result of declining or stabilising immunisation coverage and sporadic, large outbreaks of measles across the region.
R Angelini , A C Finarelli , P Angelini , C Po , K Petropulacos , G Silvi , P Macini , C Fortuna , G Venturi , F Magurano , C Fiorentini , A Marchi , E Benedetti , P Bucci , S Boros , R Romi , G Majori , M G Ciufolini , L Nicoletti , G Rezza and A Cassone