Volume 12, Issue 18, 03/May/2007
Weekly releases (1997–2007) - Volume 12, Issue 18, 03 May 2007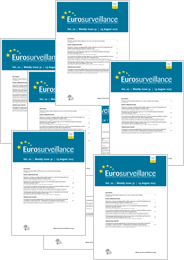 Articles

More

Less

Hantaviruses (family Bunyaviridae) are rodent-borne pathogens and occur worldwide. Hantavirus infections in Europe and Asia can result in a hemorrhagic fever with renal syndrome (HFRS) of different severity.

More

Less

Two returning French travellers were hospitalised in late March 2007 for cholera caused by Vibrio cholerae serogroup O1 serotype Ogawa. In a separate event, a third case was hospitalised in early April 2007.

More

Less

In mid-February 2007, there was a small rise in the number of laboratory-notified cases of cryptosporidiosis in the city and county of Galway, Ireland in comparison to February 2006.