Volume 12, Issue 19, 10/May/2007
Weekly releases (1997–2007) - Volume 12, Issue 19, 10 May 2007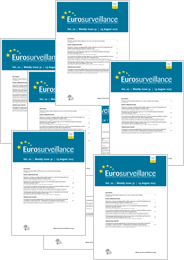 Articles

More

Less

The recent attention devoted to human influenza in the context of a possible pandemic has identified a surprising number of research gaps, some of which concern issues of fundamental importance for preventing or reducing transmission.

More

Less

Between 1 March and 5 April 2007, 11 cases of measles were notified in the canton of Geneva, Switzerland. The most recent cases before this cluster dated back to April 2005. In Switzerland, measles notification by physicians and laboratories to local and federal public health authorities is mandatory.

More

Less

Transnational cooperation is often essential when dealing with infectious diseases, and one challenge facing European Union Member States is finding ways to collaborate with partners outside the EU. An example of one Member State doing just this is the Koch-Metschnikow-Forum (KMF).

More

Less

On 4 May 2007, the Clinical Trial Search Portal (http://www.who.int/trialsearch) was launched. An international initiative led by the World Health Organisation (WHO), the portal aims to ease the rapid search for information about clinical trials worldwide. It is open to the public, but its target audience is health practitioners and researchers.
R Angelini , A C Finarelli , P Angelini , C Po , K Petropulacos , G Silvi , P Macini , C Fortuna , G Venturi , F Magurano , C Fiorentini , A Marchi , E Benedetti , P Bucci , S Boros , R Romi , G Majori , M G Ciufolini , L Nicoletti , G Rezza and A Cassone