Volume 12, Issue 21, 24/May/2007
Weekly releases (1997–2007) - Volume 12, Issue 21, 24 May 2007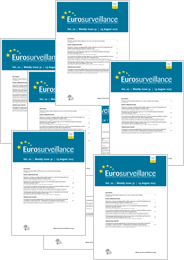 Articles

More

Less

Between 7 and 14 May 2007, Nasjonalt Folkehelseinstitutt (the Norwegian Institute of Public Health, NIPH) was notified of six cases of measles, all occurring in a group of families from England staying at camping sites in Norway.

More

Less

The following case report describes a case of native valve infective endocarditis caused by Alcaligenes xylosoxidans, an opportunistic pathogen that has been implicated in outbreaks of nosocomial infections associated with contaminated solutions.

More

Less

The EpiNorth website has just been updated with data from the 2006 annual surveillance reports from the eight Baltic and Nordic countries, and the seven neighbouring regions of north-western Russia (Arkhangelsk, Murmansk, St. Petersburg city, Leningrad county, Kaliningrad, Karelia, and Nenets).

More

Less

From 1 May, a new Health Communication Unit (HCU) has been established in the European Centre for Disease Prevention and Control (ECDC).

More

Less

In a recent issue of the journal AIDS, Likatavicius et al. present data covering 14 years of monitoring the HIV prevalence in blood donations in Europe by the EuroHIV surveillance network.

More

Less

The World Health Assembly, the supreme decision-making body of the World Health Organization (WHO), concluded its annual session in Geneva this week with a last-minute resolution concerning the sharing of influenza viruses and access to vaccines in relation to pandemic preparedness.
R Angelini , A C Finarelli , P Angelini , C Po , K Petropulacos , G Silvi , P Macini , C Fortuna , G Venturi , F Magurano , C Fiorentini , A Marchi , E Benedetti , P Bucci , S Boros , R Romi , G Majori , M G Ciufolini , L Nicoletti , G Rezza and A Cassone