Volume 12, Issue 32, 09/Aug/2007
Weekly releases (1997–2007) - Volume 12, Issue 32, 09 August 2007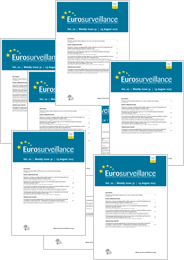 Articles

More

Less

On 27 July 2007, the Department of Communicable Disease Control and Prevention of Stockholm County Council (SCC), Sweden, was informed by one of the infectious diseases hospitals in Stockholm that three elderly women travelling on a cruise ship had been hospitalised due to severe pneumonia

More

Less

On 29 May 2007, a general practitioner (GP) from a rural village in the province of Noord- Brabant, in the south of the Netherlands, alerted the municipal health service about an unusual increase in pneumonia cases among adults in his practice.

More

Less

A 59-year-old Danish woman presented to her general practitioner (GP) at the end of June. A few weeks earlier, during a meal at home in Denmark, she had consumed a slice of pork sausage ('teewurst', German sausage) brought to her by three Polish visitors.