Volume 12, Issue 35, 30/Aug/2007
Weekly releases (1997–2007) - Volume 12, Issue 35, 30 August 2007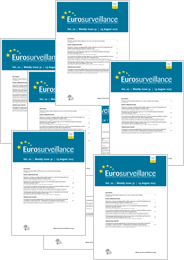 Articles

More

Less

On 16 August 2007, the Danish regional food authority (Fødevareregion Øst) and the Statens Serum Institut (SSI) became aware of an outbreak of Shigella sonnei infections.

More

Less

In 1996, the Norwegian Ministry of Health issued regulations on the prevention of nosocomial infections (NIs). The regulations were revised in 2005. As part of the infection control programme, hospitals and long-term care facilities are obliged to have a surveillance system for NIs in place and to report the results to the Norwegian Institute of Public Health.

More

Less

On 23 August, the World Health Organization published its latest World Health Report, subtitled 'A Safer Future: Global Public Health Security in the 21st Century'.
R Angelini , A C Finarelli , P Angelini , C Po , K Petropulacos , G Silvi , P Macini , C Fortuna , G Venturi , F Magurano , C Fiorentini , A Marchi , E Benedetti , P Bucci , S Boros , R Romi , G Majori , M G Ciufolini , L Nicoletti , G Rezza and A Cassone