Volume 12, Issue 43, 25/Oct/2007
Weekly releases (1997–2007) - Volume 12, Issue 43, 25 October 2007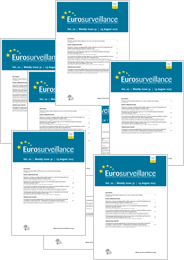 Articles

More

Less

Methicillin-resistant Staphylococcus aureus isolates are emerging as significant pathogens in the community.

More

Less

The elimination of measles and rubella and the prevention of congenital rubella in the European Region are objectives the World Health Organization has set to achieve by the year 2010.

More

Less

The First European Scientific Conference on Applied Infectious Disease Epidemiology (ESCAIDE) took place in Stockholm, Sweden, from 18 to 20 October 2007.