Volume 12, Issue 6, 08/Feb/2007
Weekly releases (1997–2007) - Volume 12, Issue 6, 08 February 2007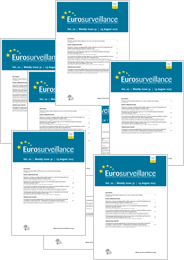 Articles

More

Less

For more than 30 years up to 2006, the incidence of human listeriosis in the Czech Republic has been low, ranging between 0.1 and 0.2 cases per 100 000 population per year. In 2006, however, the incidence of human listeriosis was about 0.7.

More

Less

An outbreak of H5N1 avian influenza which occurred on 1 February 2007 has been confirmed on a large closed poultry farm in Suffolk, east England, according to the United Kingdom ministry of agriculture.

More

Less

A Chlamydia trachomatis variant has recently been reported from Sweden, characterised by a 377 base pair deletion in open reading frame 1 in the Chlamydia trachomatis plasmid (located outside the chromosome).

More

Less

A new variant Chlamydia trachomatis strain has recently been isolated in Sweden. Certain commercial diagnostic tests generate false negative results when screening specimens from patients who are infected with the new variant strain.

More

Less

We describe a case of childhood tetanus in a child who had received no vaccination for the disease, and who developed tetanus following a leg injury.

More

Less

A Phase III trial of a candidate microbicide gel to prevent HIV infection in women has been halted because more participants using the gel were becoming infected than those in the placebo group. A trial of the same gel in Nigeria has also been stopped as a precaution.
R Angelini , A C Finarelli , P Angelini , C Po , K Petropulacos , G Silvi , P Macini , C Fortuna , G Venturi , F Magurano , C Fiorentini , A Marchi , E Benedetti , P Bucci , S Boros , R Romi , G Majori , M G Ciufolini , L Nicoletti , G Rezza and A Cassone