Volume 12, Issue 8, 22/Feb/2007
Weekly releases (1997–2007) - Volume 12, Issue 8, 22 February 2007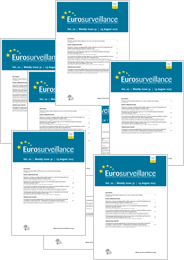 Articles

More

Less

Significant progress in preparing for a pandemic has been made in recent years in the European Union, but there is still much to do, according to a status report published this week

N Torner , A Martinez , J Costa , M M Mosquera , I Barrabeig , A Rovira , C Rius , J Cayla , E Plasència , I Parrón , R Sala , C Arias , A Domínguez , C Cabezas and A Plasencia

More

Less

From 1 October 2006 to 31 January 2007, 213 confirmed cases of measles occurred in the Barcelona Region, resulting from the importation of one case.

More

Less

There has been an increase in the number of rabies cases in animals in Belarus, starting from 1996 with 27 cases, with peaks in 2003 (1077 cases) and 2006 (1628 cases) [1,2]. In comparison, a decade earlier (1988-1995) only sporadic cases of rabies in animals were registered.
R Angelini , A C Finarelli , P Angelini , C Po , K Petropulacos , G Silvi , P Macini , C Fortuna , G Venturi , F Magurano , C Fiorentini , A Marchi , E Benedetti , P Bucci , S Boros , R Romi , G Majori , M G Ciufolini , L Nicoletti , G Rezza and A Cassone