Volume 5, Issue 42, 17/Oct/2001
Weekly releases (1997–2007) - Volume 5, Issue 42, 17 October 2001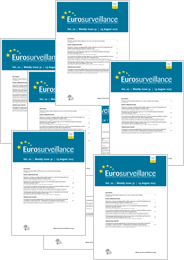 Articles

More

Less

On 4 October 2001, a case of anthrax was reported in a 63 year old resident of Florida (1). The patient was admitted to hospital with the respiratory form of anthrax and subsequently died. An epidemiological investigation and public health surveillance was started to determine how infection with Bacillus anthracis occurred and identify other infections. An environmental investigation identified one sample taken from the patient's workplace (America Media Incorporated (AMI), Boca Raton, Florida) as positive for anthrax.

More

Less

Three cases of meningococcal disease occurred in three neighbouring villages in the Austrian state of Styria between 29 January and 8 February 2001 (1). The surrounding region has a population of 10 145 people, distributed over nine villages. The first case, a 1 year old boy with meningococcal septicaemia, became ill with a feverish infection on 28 January 2001. The following day he had a skin rash and was taken to the family doctor and admitted to hospital where meningococci were isolated from the blood culture.

More

Less

In 1998, the European Parliament and Council concluded a debate on how to organise infectious disease surveillance in the European Union with a Decision to create a scheme for decentralised networks rather than build a large European surveillance centre (1,2). Institutions in member states receive funding to organise European surveillance for one or more infectious pathogens. A study reported in last week's BMJ examines how these networks functioned in five international outbreaks (3). This study had been commissioned by the Directorate General Health and Consumer Protections (DG SANCO, then DGV) (4,5).
R Angelini , A C Finarelli , P Angelini , C Po , K Petropulacos , G Silvi , P Macini , C Fortuna , G Venturi , F Magurano , C Fiorentini , A Marchi , E Benedetti , P Bucci , S Boros , R Romi , G Majori , M G Ciufolini , L Nicoletti , G Rezza and A Cassone