Volume 6, Issue 22, 30/May/2002
Weekly releases (1997–2007) - Volume 6, Issue 22, 30 May 2002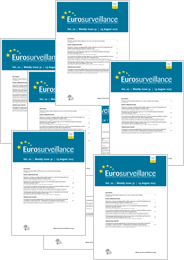 Articles

More

Less

The Department of Public Health and Planning of the Midland Health Board in the Republic of Ireland noted an increase in the number of cases of Cryptosporidium reported by the laboratory in one region of the Board in April-May 2002 (this laboratory normally reports between zero and two cases each month).

More

Less

Following two conferences which took place in the United States (US) last year, the American Medical Association has recently published two consensus statements concerning screening for and management of cervical cancer (1-3). It is recommended that human papilloma virus (HPV) testing become an integral part of both screening and clinical management of cervical cytological abnormalities.

More

Less

The fifth triennial international symposium on Vero cytotoxigenic Escherichia coli (VTEC) infections (VTEC 2003) will take place in Edinburgh in between 8 and 13 June 2003. It will be a showcase for the latest research on VTEC infections from around the world and will build on the success of the 1997 conference in Baltimore, USA, and more recently in Kyoto, Japan, in 2000.
R Angelini , A C Finarelli , P Angelini , C Po , K Petropulacos , G Silvi , P Macini , C Fortuna , G Venturi , F Magurano , C Fiorentini , A Marchi , E Benedetti , P Bucci , S Boros , R Romi , G Majori , M G Ciufolini , L Nicoletti , G Rezza and A Cassone