Volume 6, Issue 23, 06/Jun/2002
Weekly releases (1997–2007) - Volume 6, Issue 23, 06 June 2002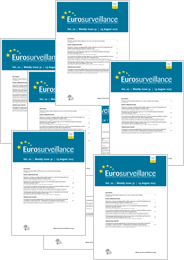 Articles

More

Less

The number of newly diagnosed HIV infections reported for the heterosexual category in the Republic of Ireland has increased each year since 1994 according to figures released last week by the National Disease Surveillance Centre, Dublin (1). Between 1999 and 2000, the number of HIV infections in this category more than doubled, from 59 in 1999 to 127 in 2000. Between 2000 and 2001, there was a 36% increase in reported infections in this category, from 127 to 173. Worryingly, over the same period, the numbers of reports of other sexually transmitted infections also increased, although the increases seen between 1999 and 2000 were not as dramatic as those for HIV infections reported for the same period (2). During 2000, 8869 cases of sexually transmitted infections (STIs) were notified, compared with 6993 in 1999, a 26.8% increase. The total number of newly diagnosed HIV infections for 2001 was 299 compared with 290 for 2000, a rate of 82.5 per million for 2001 and 80.0 per million for 2000. This brings the total number of HIV cases newly and previously diagnosed reported in Ireland to December 2001 to 2645.

More

Less

The prevalence of gonorrhoea and syphilis, and that of HIV infection among heterosexuals, has been increasing in many European countries since 1995, and surveillance of sexually transmitted infections other than HIV should be introduced at a European level, according to an article published in the BMJ last week (1) The authors studied new diagnoses of HIV infection reported by the 10 west European countries collaborating with the European Centre for the Epidemiological Monitoring of AIDS (EuroHIV, http://www.eurohiv.org/). For gonorrhoea and syphilis, they consulted published annual reports from national surveillance centres, and conducted a systematic literature search of published papers.

More

Less

The recorded incidence of tickborne encephalitis (TBE) in Europe and Russia has changed over the past two decades, but the geographical pattern of change is heterogeneous (1) (see figure). The most dramatic changes of all were the sudden increases (2- to 30-fold) in 1992-3 in Latvia, Lithuania, Poland and Belarus, with marked but lesser increases in Estonia, Germany, Slovakia, and the Czech Republic. TBE cases have increased steadily since the mid-1970s in Russia, and since the mid-1980s in Switzerland, Sweden, and Finland. Since 1997, the first cases have appeared in Norway (2). Along the southern edge of the virus's range, in Slovenia, Croatia and Hungary, incidence has fluctuated and shown no consistent trend apart from signs of decreasing over the past 4-5 years. In Austria, the only country with extensive systematic vaccination coverage, TBE incidence has decreased progressively since the early 1980s.
R Angelini , A C Finarelli , P Angelini , C Po , K Petropulacos , G Silvi , P Macini , C Fortuna , G Venturi , F Magurano , C Fiorentini , A Marchi , E Benedetti , P Bucci , S Boros , R Romi , G Majori , M G Ciufolini , L Nicoletti , G Rezza and A Cassone