Volume 6, Issue 24, 13/Jun/2002
Weekly releases (1997–2007) - Volume 6, Issue 24, 13 June 2002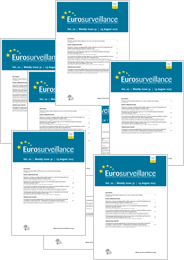 Articles

More

Less

People who have been immunised against typhoid may still be at risk of becoming infected while travelling to endemic countries, as the following case reported in Germany's surveillance bulletin shows (1).

More

Less

A total of 5.9% of isolates from blood cultures of enterococci in Italy during the last half of 2001 were resistant to three or more antibiotics (of different classes) (1). The frequency of vancomycin resistance and overall multiresistance in invasive strains of Enterococcus faecalis and Enterococcus faecium are reported in table 1. It is of note that 80.0% of those isolates that were vancomycin resistant were also multiresistant.

More

Less

Campylobacter infections notified to the Meldingssystem for smittsomme sykdommer (MSIS, National Surveillance System for Infectious Diseases) in Norway increased by 24% from 2000 to 2001, from 2331 cases in 2000 to 2890 cases in 2001 (1). This was a continuation of the increasing trend that has been evident since the mid-90s (figure 1). Of the 2890 campylobacteriosis cases notified in 2001, 20% (552 cases) were admitted to hospital, and no deaths were reported. Fifty per cent of the infections in 2001 were reported as having being acquired abroad (1441 imported cases) and 43% (1246 cases) in Norway. For the remaining cases, information about the place of infection was not available. The largest increase was observed among domestic cases, which rose by 38% compared with the previous year, whereas infections acquired abroad increased by 12%.
R Angelini , A C Finarelli , P Angelini , C Po , K Petropulacos , G Silvi , P Macini , C Fortuna , G Venturi , F Magurano , C Fiorentini , A Marchi , E Benedetti , P Bucci , S Boros , R Romi , G Majori , M G Ciufolini , L Nicoletti , G Rezza and A Cassone