Volume 6, Issue 25, 20/Jun/2002
Weekly releases (1997–2007) - Volume 6, Issue 25, 20 June 2002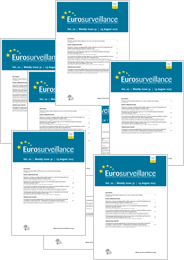 Articles

More

Less

The eighth Wolfheze Workshop, in the Netherlands from 7-12 June 2002, has concluded that tuberculosis (TB) control in Europe needs expanded directly observed treatment-short course (DOTS), linked HIV and TB control, and improved surveillance. The workshop consisted of three consecutive modules attended by a total of 92 delegates from 45 countries. The first Wolfheze workshop on tuberculosis control in Europe was held in 1990 as a policy platform for low tuberculosis incidence countries. It became a platform for TB control in all of Europe after the epidemiological changes observed in the former Soviet Union.

More

Less

On 12 June 2002, the Ministry of Health of the Republic of Congo reported six suspected cases, including five deaths, of acute haemorrhagic fever syndrome in Mbomo district, near the Gabonese border (1). The first cases occurred in a group of people who had been working in a gold mining camp in a forest south of Oloba. It seems that they may have been exposed to the same source, a chimpanzee found dead in the forest.

More

Less

An epidemic of invasive meningococcal disease occurred in pilgrims returning from the haj pilgrimage to Mecca, Saudi Arabia, in 2000. The strain of Neisseria meningitidis isolated from these cases was W135: 2a: P1.2, 5, or compatible with that strain. In September 2000, enhanced surveillance for W135: 2a: P1.2, 5 or compatible strains was established in sentinel countries within the European Union surveillance network for invasive meningococcal disease (1, and references therein). Data is reported weekly from the six participating countries' reference laboratories, and a similar increase in cases of this strain was detected in association with haj 2001. This report summarises all confirmed cases in the period 23 February to 31 May 2002, the period following haj 2002.
R Angelini , A C Finarelli , P Angelini , C Po , K Petropulacos , G Silvi , P Macini , C Fortuna , G Venturi , F Magurano , C Fiorentini , A Marchi , E Benedetti , P Bucci , S Boros , R Romi , G Majori , M G Ciufolini , L Nicoletti , G Rezza and A Cassone