Volume 6, Issue 31, 01/Aug/2002
Weekly releases (1997–2007) - Volume 6, Issue 31, 01 August 2002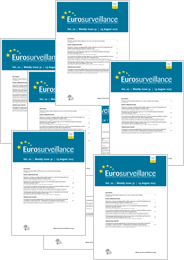 Articles

More

Less

Constant vigilance is necessary to detect emerging pathogens and to find unknown reservoirs and routes of transmission, as illustrated by a severe case of enteritis in a small child reported in Germany's surveillance bulletin (1).

More

Less

Vertical transmission of HIV from mother to child can be prevented effectively only if the mother's serostatus is known. Antenatal screening programmes can play an important part in this unless the prevalence in the population is very low, as reported in the Journal of Medical Screening (1).

More

Less

A total of 4795 pneumococcal isolates from nine European countries and Israel were reported to a European surveillance project on pneumococcal serotypes for 1999 (1). The aim of the surveillance was not to describe the incidence of pneumococcal infection, but to monitor pneumococcal serotypes. Considerable variation was found in country and age distribution.