Volume 6, Issue 32, 08/Aug/2002
Weekly releases (1997–2007) - Volume 6, Issue 32, 08 August 2002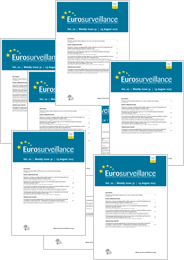 Articles

More

Less

Last week, the United Kingdom received its first licensed varicella (chickenpox) vaccine. Despite the availability of the new vaccine there are currently no plans to introduce it into the routine immunisation schedule in the UK (currently the vaccine is licensed only for susceptible individuals over the age of 12 years and younger individuals who may be in contact with high risk patients). Indeed, European countries have been slow to introduce widespread chickenpox vaccination, despite the apparent success of the programme in reducing chickenpox incidence in the United States (1). This may be due to a lack of perceived need for chickenpox vaccine among parents and healthcare professionals as observed in Canada, along with concerns regarding the safety of the vaccine when used in routine programmes (2). There are two safety concerns: first, that an inadequate chickenpox vaccination programme will lead to an increase in adult cases (which are generally more severe); and second, that vaccination will lead to an increase in zoster (shingles) in the medium term. What is the basis for these concerns and what surveillance data are available from countries that have introduced the vaccine (notably the US) that may shed light on these issues?

More

Less

The investigation and management of a large outbreak of legionnaires' disease in north west England is continuing (1). As of 7 August 2002, 70 cases had been recognized to be part of the outbreak. All cases have been in local residents except for one case in a resident of Scotland. The probable source of the outbreak was closed on 1 August.

More

Less

While the incidence of gonorrhoea in the Nordic countries (the Scandinavian countries of Denmark, Norway, and Sweden, plus Finland and Iceland) continued to decrease in the early 1990s, the opposite was seen in neighbouring countries in the Barents and Baltic sea region. In the late 1990s the incidence of gonorrhoea increased in all of the Nordic countries. Concern was raised that this increase could be linked to the growing number of cases in the neighbouring regions, due either to people visiting these regions, or to sex workers operating in the Nordic countries. Thorough surveillance in the Nordic countries reveals that probably only a small part of this increase is related to transmission across national borders.
R Angelini , A C Finarelli , P Angelini , C Po , K Petropulacos , G Silvi , P Macini , C Fortuna , G Venturi , F Magurano , C Fiorentini , A Marchi , E Benedetti , P Bucci , S Boros , R Romi , G Majori , M G Ciufolini , L Nicoletti , G Rezza and A Cassone