Volume 6, Issue 37, 11/Sep/2002
Weekly releases (1997–2007) - Volume 6, Issue 37, 11 September 2002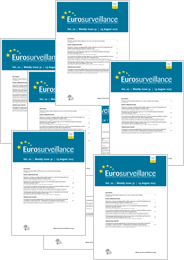 Articles

More

Less

At the end of July 2002, the Direction Départementale des Affaires Sanitaires et Sociales (DDASS) was informed of several dozen patients who had consulted their general practitioners (GPs) in Chamonix with fever, myalgia, and severe headaches. Most of the patients had serum transaminases 2-3 times above normal level. Most patients recovered spontaneously after 5-10 days. Several patients were hospitalised.

More

Less

Following the deliberate releases of anthrax in the United States last autumn, the World Health Organization (WHO) identified a need to review existing emergency plans and implement further actions to allow member states, WHO and other international organisations to prevent, prepare for and respond to deliberate releases of chemical and biological agents (1). Previous WHO guidance on the threat of bioterrorism, specific activities at European Union level, and the coordinated international initiative to improve global health security, have been described in Eurosurveillance Weekly (2-5).

More

Less

The use of antimicrobial agents in the management of patients with E. coli O157 infection is controversial. Verocytotoxigenic Escherichia coli (VTEC), including E. coli O157:H7, is an important cause of gastrointestinal illness. Infection typically presents as a diarrhoeal illness, often with bloody stools. In approximately 8% of patients with E. coli O157:H7, infection progresses to hemolytic-uraemic syndrome (HUS), a life threatening condition characterised by microangiopathic hemolytic anemia, thrombocytopenia, and renal failure. HUS is also associated with VTEC belonging to other E. coli serogroups, although less common than in E. coli O157.
R Angelini , A C Finarelli , P Angelini , C Po , K Petropulacos , G Silvi , P Macini , C Fortuna , G Venturi , F Magurano , C Fiorentini , A Marchi , E Benedetti , P Bucci , S Boros , R Romi , G Majori , M G Ciufolini , L Nicoletti , G Rezza and A Cassone