Volume 6, Issue 38, 19/Sep/2002
Weekly releases (1997–2007) - Volume 6, Issue 38, 19 September 2002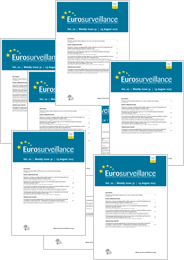 Articles

More

Less

Several outbreaks of infectious intestinal disease (IID) among passengers on board tour coaches have been reported in the Republic of Ireland in September 2002. Most of the affected passengers have been elderly people from the United States and the United Kingdom. Microbiological confirmation is awaited, but clinically and epidemiologically the illness is consistent with Norwalk-like virus (NLV) infection (1). Similar outbreaks were described in Scotland earlier this summer (2).

More

Less

Preliminary findings based on the serological tests of a continuing outbreak investigation of a severe encephalitic illness in Meherpur, Bangladesh, in April-May 2001 suggest that the etiological agent may be Nipah or a closely related virus (1). A press report in early May 2001 described an outbreak of suspected Japanese encephalitis (JE) in a remote village in Meherpur (2). There were 28 adult cases, mostly in men, of an acute neurological syndrome (progressive fever, malaise, headache, and coma). Nine of them died. Viral encephalitis was diagnosed clinically, but lumbar puncture and other investigations were not performed (3). Cases of a similar disease had occurred in Siliguri, India (not far from Bangladesh), earlier in 2001. Epidemiological information is not yet available.

More

Less

Denmark's Statens Serum Institute (SSI) celebrated its centenary last week with an international symposium entitled 'Vaccines for the 21st century – development and strategies' (11-12 September), and the launch of a new website (http://www.ssi.dk/) (1). SSI was inaugurated on 9 September 1902 to ensure the production and supply of anti-diphtheria serum for Danish patients. Throughout its 100 year history, the institute has continuously applied research based knowledge to the prevention and control of infectious diseases and congenital disorders.
R Angelini , A C Finarelli , P Angelini , C Po , K Petropulacos , G Silvi , P Macini , C Fortuna , G Venturi , F Magurano , C Fiorentini , A Marchi , E Benedetti , P Bucci , S Boros , R Romi , G Majori , M G Ciufolini , L Nicoletti , G Rezza and A Cassone