Volume 6, Issue 51, 19/Dec/2002
Weekly releases (1997–2007) - Volume 6, Issue 51, 19 December 2002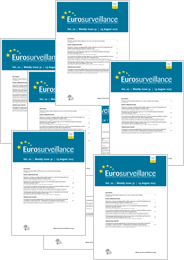 Articles

More

Less

The European Commission published the first round of calls for the Sixth Framework Programme (FP6, http://www.cordis.lu/fp6/) on 17 December.(1). FP6 will be the main instrument for funding of research by the European Union in Europe, and this round focuses on specific programmes 1 and 2. The three priority thematic areas of research which will be of particular interest to the communicable disease public health community are:

More

Less

Laboratory tests have confirmed that a patient who died last week in a hospital in, Lanarkshire, Scotland, was infected with a Glycopeptide Intermediate Resistant Staphylococcus aureus (GISA) (1). GISA has increased resistance to first line antibiotics used for treating infections caused by methicillin resistant Staphylococcus aureus (MRSA), namely, vancomycin and teicoplanin (2). This is the second report of an infection with this organism for Scotland, and possibly the first report in the United Kingdom of an associated death. (3).

More

Less

In a recent issue of the New England Journal of Medicine (1,2), two American groups published the results of multicentre trials of vaccines against genital HPV and HSV-2 infection. Both these double-stranded DNA viruses are sexually transmitted and infection can result in very serious sequelae.
R Angelini , A C Finarelli , P Angelini , C Po , K Petropulacos , G Silvi , P Macini , C Fortuna , G Venturi , F Magurano , C Fiorentini , A Marchi , E Benedetti , P Bucci , S Boros , R Romi , G Majori , M G Ciufolini , L Nicoletti , G Rezza and A Cassone