Volume 6, Issue 8, 21/Feb/2002
Weekly releases (1997–2007) - Volume 6, Issue 8, 21 February 2002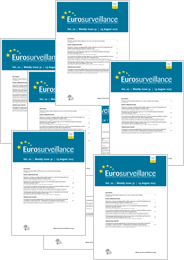 Articles

More

Less

An elderly man admitted for an orthopedic procedure in late December 2001 to an NHS (National Health Service) hospital in England developed Plasmodium falciparum malaria at the end of January (1).

More

Less

Notification of cases of systemic pneumococcal disease has been mandatory since Norway's notification system for infectious diseases (Meldingssystem for smittsomme sykdommer, MSIS) was implemented at a national level in 1975. The legislation was updated with the introduction of the Infectious Diseases Control Act in 1995.

More

Less

The Food and Veterinary Office of the European Commission Health and Consumer Protection Directorate has published its report on a series of missions undertaken to assess controls of Vero cytotoxigenic Escherichia coli (VTEC) in the food production sector (click here). In the first half of 2001 six countries were visited (Belgium, Denmark, France, Germany, Portugal, and Sweden), and the objectives of the missions were to provide a review of the current situation regarding VTEC at a European level, and identify best practices in the member states visited.
R Angelini , A C Finarelli , P Angelini , C Po , K Petropulacos , G Silvi , P Macini , C Fortuna , G Venturi , F Magurano , C Fiorentini , A Marchi , E Benedetti , P Bucci , S Boros , R Romi , G Majori , M G Ciufolini , L Nicoletti , G Rezza and A Cassone