Volume 7, Issue 1, 02/Jan/2003
Weekly releases (1997–2007) - Volume 7, Issue 1, 02 January 2003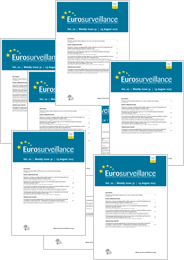 Articles

More

Less

A number of countries are beginning to implement plans to offer smallpox vaccination to sub-groups of healthcare workers in advance of a deliberate release (1, 2). At the same time there have been calls for mass vaccination of the public, or vaccination of the public on a voluntary basis. In the United States (US), while concentrating on selective vaccination, the government has decided to make the vaccine 'available to all' from 2004 (3). The European Commission Taskforce on Bioterrorism (BICHAT) has commented that a number of complex issues and present uncertainties would make a one-to-one translation of the US plan to the European situation an unjustified oversimplification (4). A series of articles was published electronically ahead of print publication in the New England Journal of Medicine on 19 December 2002 and aims to provide informed guidance on the current public health question 'whom should we be vaccinating?' By highlighting the adverse consequences of a mass vaccination policy, the articles support current plans for selective smallpox vaccination, and provide physicians with information to help them educate their patients when the inevitable requests for vaccination are received.

More

Less

The European Programme for Intervention Epidemiology Training (EPIET) started in 1995. The programme is funded by the European Commission and by various European Union (EU) member states as well as Norway and the World Health Organization (WHO). Subject to agreement for another round of funding, the ninth cohort of fellows will start in October 2003. The programme invites applications for 10 fellowships for this 24 month training programme in communicable disease field epidemiology.

More

Less

If the European Research Area is to function successfully, researchers from European Union (EU) member states, EU candidate countries, and other associated states need to be able to move easily and quickly between the countries for research and work purposes.
R Angelini , A C Finarelli , P Angelini , C Po , K Petropulacos , G Silvi , P Macini , C Fortuna , G Venturi , F Magurano , C Fiorentini , A Marchi , E Benedetti , P Bucci , S Boros , R Romi , G Majori , M G Ciufolini , L Nicoletti , G Rezza and A Cassone