Volume 7, Issue 13, 27/Mar/2003
Weekly releases (1997–2007) - Volume 7, Issue 13, 27 March 2003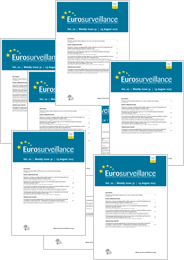 Articles

More

Less

At the beginning of March 2003 an outbreak of highly pathogenic avian influenza (A/H7N7) in several Dutch poultry farms was reported (1). On 11 March 2003, several workers, who had been exposed to A/H7N7 infected poultry, developed conjunctivitis. Some of them tested positive for influenza A/H7N7 (2). One week later, two close contacts of a worker with H7N7 infection developed similar eye symptoms. They had also been infected with the avian influenza virus, although they had had no exposure to infected poultry themselves, which strongly suggests human to human transmission of the virus (3).

More

Less

WHO coordinated virtual conference (http://www.who.int/csr/sars/cliniciansconference/en/) On 26 March 80 clinicians from 13 countries participated in an electronic "grand rounds" on clinical features and treatment for patients with Severe Acute Respiratory Syndrome (SARS) (1). Their discussion, organised by the World Health Organization (WHO) network of clinicians focused on features of the disease at presentation, treatment and progression of the disease, prognostic indicators and discharge criteria. No therapy demonstrated any particular effectiveness. Clinicians agreed that a subset of SARS patients, perhaps 10%, decline and need mechanical assistance to breathe. These patients often have other illnesses which complicates their care, and in this group, mortality is high.

More

Less

On 23 October 2002 the Centro Regional de Saúde Pública do Norte (CRSPN) was informed that several people had been admitted to hospital with gastroenteritis. Preliminary information collected that day showed that the patients, resident in different municipalities, had attended a lunch party in a restaurant on 20 October.
R Angelini , A C Finarelli , P Angelini , C Po , K Petropulacos , G Silvi , P Macini , C Fortuna , G Venturi , F Magurano , C Fiorentini , A Marchi , E Benedetti , P Bucci , S Boros , R Romi , G Majori , M G Ciufolini , L Nicoletti , G Rezza and A Cassone