Volume 7, Issue 21, 22/May/2003
Weekly releases (1997–2007) - Volume 7, Issue 21, 22 May 2003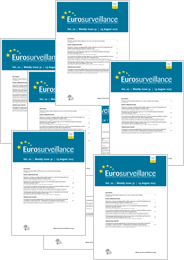 Articles

More

Less

The first global consultation on the epidemiology of severe acute respiratory syndrome (SARS) took place in Geneva on 16 and 17 May (http://www.who.int/csr/sars/archive/2003_05_17/en/). The purpose of the meeting was to ensure that the World Health Organization (WHO) recommendations are based on the best available scientific evidence and to review the available epidemiological information in the context of its relevance to effective public health practice. Sixteen countries, including all those most affected by SARS, were represented either in person, by video link, or by telephone. A number of experts in the mathematical modelling of infectious diseases were also present.

More

Less

At an extraordinary meeting of the council of the European Union on 6 May, the council endorsed the orientations for immediate and future actions for SARS epidemic control in Europe (http://europa.eu.int/comm/health/ph_threats/com/sars/council_sars_en.pdf).

More

Less

The Rénarub network, set up in 1976, is the principle source of information on the epidemiology of rubella in France (1, 2). Its objective is to collate, at national level, cases of rubella occurring during pregnancy and congenital rubella, and more widely, to evaluate the impact of vaccination policy and prevention measures put in place in France with the aim of eliminating congenital rubella. The full version of this article is available on the website of the Institut de Veille Sanitaire, including the new case definition, more detailed results (http://www.invs.sante.fr/publications/2003/rubeole_2001/rubbeh_2001.pdf), and a list of laboratories participating in the network (http://www.invs.sante.fr/publications/2003/rubeole_2001/reseau_renarub.htm).
R Angelini , A C Finarelli , P Angelini , C Po , K Petropulacos , G Silvi , P Macini , C Fortuna , G Venturi , F Magurano , C Fiorentini , A Marchi , E Benedetti , P Bucci , S Boros , R Romi , G Majori , M G Ciufolini , L Nicoletti , G Rezza and A Cassone