Volume 7, Issue 22, 29/May/2003
Weekly releases (1997–2007) - Volume 7, Issue 22, 29 May 2003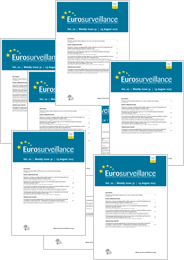 Articles

More

Less

A 24 year old, previously healthy Finnish man travelled to Toronto from 24-28 April 2003 to attend a large conference. After returning to Finland, he became ill with a high fever (40 °C) and mild cough on 30 April. The patient was admitted to Turku University Central Hospital and placed in isolation as a suspect case of severe acute respiratory syndrome (SARS). On admission, his chest radiograph was normal. On 2 May, a perihilar infiltrate was observed in his chest radiograph. A diagnosis of community acquired pneumonia was made and the case was reclassified as probable SARS. Fever lasted for five days and the patient did not require supplemental oxygen or mechanical ventilation. From 2-13 May, the patient received oral levofloxacin, which appeared not to influence the clinical course or laboratory parameters. There was no lymphopenia and the lactate dehydrogenase was normal. Nasopharyngeal samples for respiratory antigen detection (influenza A and B, adenovirus, parainfluenza 1,2,3 and respiratory syncytial virus) were negative. Chlamydia pneumoniae and Mycoplasma pneumoniae antibody testing did not indicate acute infection. Blood cultures were negative. No aetiology for the pneumonia was identified.

More

Less

The 56th World Health Assembly, which convened 19-28 May 2003, has decided to establish and intergovernmental working group open to all member states to review and recommend a draft revision of the International Health Regulations (1, 2).

More

Less

The European Commission's commissioner for health and consumer protection this week announced the publication of weekly reports from the Rapid Alert System for Food and Feed (RASFF) online at: http://europa.eu.int/comm/food/fs/sfp/ras_index_en.html.
R Angelini , A C Finarelli , P Angelini , C Po , K Petropulacos , G Silvi , P Macini , C Fortuna , G Venturi , F Magurano , C Fiorentini , A Marchi , E Benedetti , P Bucci , S Boros , R Romi , G Majori , M G Ciufolini , L Nicoletti , G Rezza and A Cassone