Volume 7, Issue 23, 05/Jun/2003
Weekly releases (1997–2007) - Volume 7, Issue 23, 05 June 2003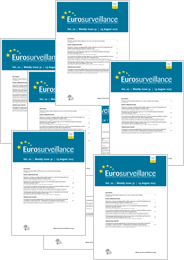 Articles

More

Less

A total of 387 clinical measles cases have been notified to the Swiss Federal Office of Public Health (SFOPH) in the last two months, a large increase compared to recent years.

More

Less

A Switzerland wide surveillance system, to register and analyse all circulating antibiotic resistant microorganisms will be set up in the next two years.

More

Less

The latest issue of EpiNorth (volume 4, number 1), the bulletin of the network for infectious disease control in Northern Europe) is now available online at www.epinorth.org.
R Angelini , A C Finarelli , P Angelini , C Po , K Petropulacos , G Silvi , P Macini , C Fortuna , G Venturi , F Magurano , C Fiorentini , A Marchi , E Benedetti , P Bucci , S Boros , R Romi , G Majori , M G Ciufolini , L Nicoletti , G Rezza and A Cassone