Volume 7, Issue 5, 30/Jan/2003
Weekly releases (1997–2007) - Volume 7, Issue 5, 30 January 2003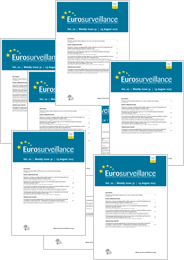 Articles

More

Less

The Global Advisory Committee on Vaccine Safety (GACVS) has concluded that no evidence exists of a causal association between measles, mumps, and rubella (MMR) vaccine and autism or autistic disorders. The GACVS reached this conclusion at its most recent meeting in Geneva in December 2002 (1).

More

Less

In 2002, 385 microbiologically confirmed cases of hepatitis A were reported in Finland (annual incidence 7.4/100 000). This was substantially more than during the previous three years, when 48 to 51 annual cases were reported (incidence 1.0/100 000/year). The incidence among men (9.9/100 000/year) was almost twice as high as that in women (5.0/100 000/year). The median age of cases was 28 years (range 0–74), and the highest rates of disease (44.8/100 000/year) were among persons aged between 20 and 29 years who accounted for 139 (36%) of all cases (Figure 1).

More

Less

There have been a number of recent outbreaks of infectious syphilis in several foci in Europe. To allow timely surveillance of infectious syphilis in Scotland, an enhanced surveillance system coordinated by the Scottish Centre for Infection and Environmental Health (SCIEH) in collaboration with genitourinary medicine (GUM) clinics and key laboratories was implemented in late 2002 (1). Surveillance tools developed by the Communicable Disease Surveillance Centre (England) were used as the basis for the surveillance system, and retrospective data were collected to the beginning of 2001.
R Angelini , A C Finarelli , P Angelini , C Po , K Petropulacos , G Silvi , P Macini , C Fortuna , G Venturi , F Magurano , C Fiorentini , A Marchi , E Benedetti , P Bucci , S Boros , R Romi , G Majori , M G Ciufolini , L Nicoletti , G Rezza and A Cassone