Volume 7, Issue 8, 20/Feb/2003
Weekly releases (1997–2007) - Volume 7, Issue 8, 20 February 2003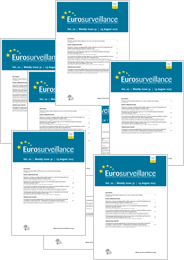 Articles

More

Less

A total of 73 suspected cases and 59 deaths from Ebola haemorrhagic fever have been reported in the districts of Mbomo and Kellé in the Cuvette Ouest Region of the Republic of the Congo as of 18 February (1).

More

Less

A total of 234 cases (provisional data) of clinical measles have been notified to the National Disease Surveillance Centre in the Republic of Ireland since late November 2002 (Weeks 48, 2002 to 06, 2003). This represents a substantial increase in the number of notified measles cases when compared to the same period in the previous four years (figure 1).

More

Less

A recent paper by Rekart and colleagues (1) presented the findings of a mass treatment intervention to eliminate an outbreak of syphilis in Vancouver, British Columbia. Following several years of very low reported infectious syphilis rates in British Columbia (less than 0.5 per 100 000 population (2), with the majority of cases acquired overseas, there was a marked increase in numbers of reported cases from mid-1997 onwards. This was largely due to a geographically localised outbreak in Vancouver's disadvantaged downtown eastside area, with rates reaching 126 per 100 000 in this area in 1999. Sixty five percent of the 277 cases reported were among persons who had contact with a potential source of their infection in or from this area. The outbreak was spread mainly through heterosexual contact, with 42% of patients associated with the sex industry (18% sex workers and 24% clients, (2)). Only 6% of cases were in men who have sex with men (MSM). Given high HIV rates among among injection drug users (IDUs) in Vancouver, and the frequent involvement of female IDUs involved in sex work, rising syphilis incidence could facilitate the spread of HIV infection both within the disadvantaged population of Vancouver's downtown eastside itself, as well as outwards from sex workers through clients into the general population (2).
R Angelini , A C Finarelli , P Angelini , C Po , K Petropulacos , G Silvi , P Macini , C Fortuna , G Venturi , F Magurano , C Fiorentini , A Marchi , E Benedetti , P Bucci , S Boros , R Romi , G Majori , M G Ciufolini , L Nicoletti , G Rezza and A Cassone