Volume 8, Issue 20, 13/May/2004
Weekly releases (1997–2007) - Volume 8, Issue 20, 13 May 2004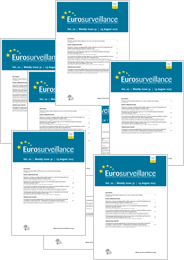 Articles

More

Less

In 1918, the Polish government established the Central Epidemiological Institute in Warsaw, which was renamed the National Institute of Hygienein 1923. At that time, the epidemiological situation in Poland was critical

More

Less

In an outbreak which lasted from September 2003 to March 2004 in Denmark, 25 people became ill with disease caused by Vero cytotoxin-producing E.coli (VTEC) O157. The outbreak was limited to the Greater Copenhagen area.

More

Less

In the first quarter of 2004 there was only one death from variant CJD reported in the United Kingdom. This follows a total of 18 deaths reported in 2003.
R Angelini , A C Finarelli , P Angelini , C Po , K Petropulacos , G Silvi , P Macini , C Fortuna , G Venturi , F Magurano , C Fiorentini , A Marchi , E Benedetti , P Bucci , S Boros , R Romi , G Majori , M G Ciufolini , L Nicoletti , G Rezza and A Cassone