Volume 22, Issue 22, 01/Jun/2017
Eurosurveillance - Volume 22, Issue 22, 01 June 2017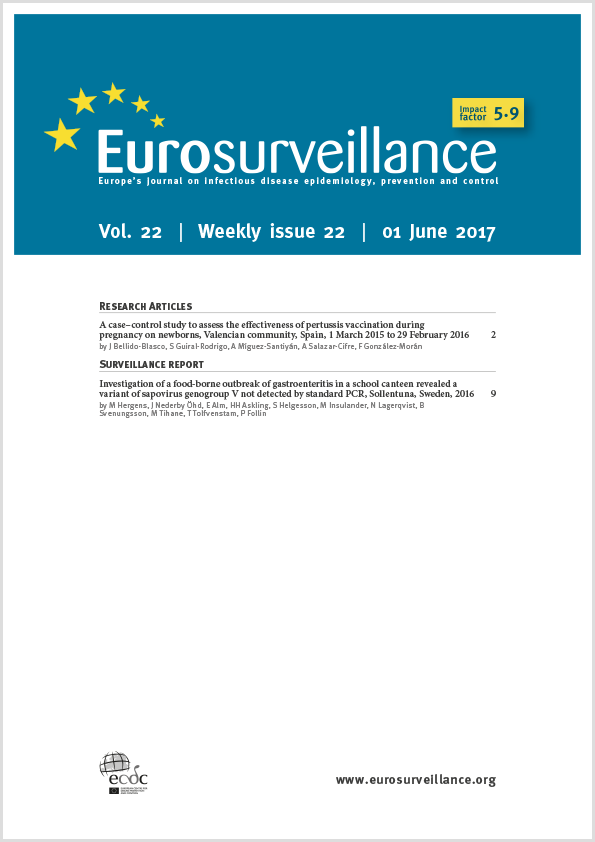 Research article

More

Less

In the Valencian Community (Spain), the programme of maternal pertussis vaccination during pregnancy started in January 2015. The objective of this study was to estimate in this region the vaccine effectiveness (VE) in protecting newborns against laboratory-confirmed pertussis infection. A matched case–control study was undertaken in the period between 1 March 2015 and 29 February 2016. Twenty-two cases and 66 controls (+/− 15 days of age difference) were included in the study. Cases were non-vaccinated infants < 3 months of age at disease onset testing positive for pertussis by real-time PCR. For every case three unvaccinated controls were selected. Odds ratios (OR) were calculated by multiple conditional logistic regression for association between maternal vaccination and infant pertussis. Other children in the household, as well as mother- and environmental covariates were taken into account. The VE was calculated as 1 − OR. Mothers of five cases (23%) and of 41 controls (62%) were vaccinated during pregnancy. The adjusted VE was 90.9% (95% confidence interval (CI): 56.6 to 98.1). The only covariate in the final model was breastfeeding (protective effect). Our study provides evidence in favour of pertussis vaccination programmes for pregnant women in order to prevent whooping cough in infants aged less than 3 months.
Surveillance and outbreak report

More

Less

A food-borne outbreak of gastroenteritis with more than 650 suspected cases occurred in April 2016 in Sollentuna, Sweden. It originated in a school kitchen serving a total of 2,700 meals daily. Initial microbiological testing (for Campylobacter, Salmonella, Shigella, Yersinia, Giardia, Cryptosporidium, Entamoeba histolytica, adeno-, astro-, noro-, rota- and sapovirus) of stool samples from 15 symptomatic cases was negative, despite a clinical presentation suggestive of calicivirus. Analyses of the findings from both the Sollentuna municipality environmental team and a web-based questionnaire suggested that the source of the outbreak was the salad buffet served on 20 April, although no specific food item could be identified. Subsequent electron microscopic examination of stool samples followed by whole genome sequencing revealed a variant of sapovirus genogroup V. The virus was not detected using standard PCR screening. This paper describes the epidemiological outbreak investigation and findings leading to the discovery.
Victor M Corman , Olfert Landt , Marco Kaiser , Richard Molenkamp , Adam Meijer , Daniel KW Chu , Tobias Bleicker , Sebastian Brünink , Julia Schneider , Marie Luisa Schmidt , Daphne GJC Mulders , Bart L Haagmans , Bas van der Veer , Sharon van den Brink , Lisa Wijsman , Gabriel Goderski , Jean-Louis Romette , Joanna Ellis , Maria Zambon , Malik Peiris , Herman Goossens , Chantal Reusken , Marion PG Koopmans and Christian Drosten