Volume 22, Issue 28, 13/Jul/2017
Eurosurveillance - Volume 22, Issue 28, 13 July 2017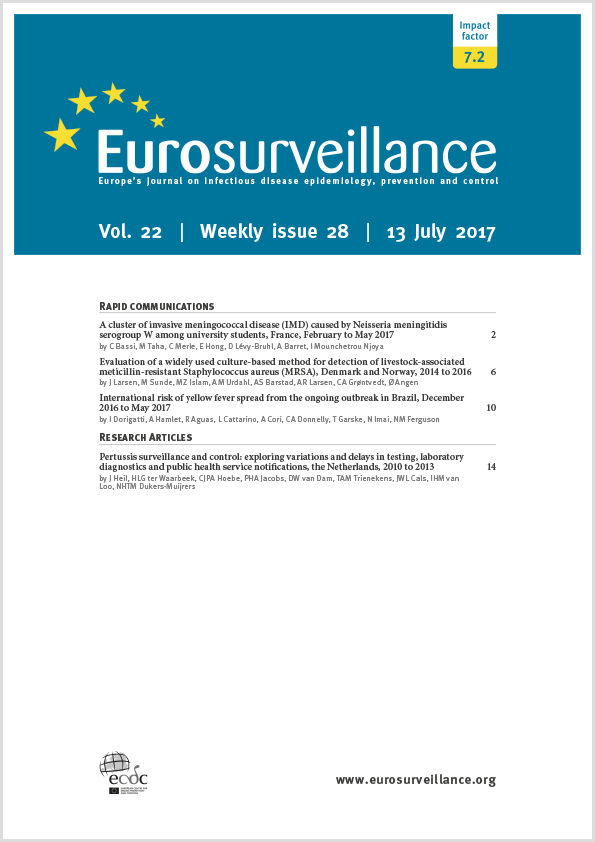 Rapid communication

More

Less

Between February and May 2017, two cases of invasive meningococcal disease caused by a new, rapidly expanding serogroup W meningococci variant were reported among students of an international university in Paris. Bacteriological investigations showed that isolates shared identical genotypic formula (W:P1.5,2:F1–1:cc11) and belonged to the South American/UK lineage. A vaccination campaign was organised that aimed at preventing new cases linked to potential persistence of the circulation of the bacteria in the students.

More

Less

We evaluated a widely used culture-based method for detection of livestock-associated meticillin-resistant Staphylococcus aureus (LA-MRSA) in samples collected from pigs and the environment inside pig stables in Denmark and Norway. Selective enrichment in tryptic soy broth containing cefoxitin and aztreonam led to a high ratio of false-negative results (26%; 57/221). On this basis, we recommend reconsidering the use of selective enrichment for detection of LA-MRSA in animal and environmental samples.

More

Less

States in south-eastern Brazil were recently affected by the largest Yellow Fever (YF) outbreak seen in a decade in Latin America. Here we provide a quantitative assessment of the risk of travel-related international spread of YF indicating that the United States, Argentina, Uruguay, Spain, Italy and Germany may have received at least one travel-related YF case capable of seeding local transmission. Mitigating the risk of imported YF cases seeding local transmission requires heightened surveillance globally.
Research article

More

Less

Pertussis is most severe among unvaccinated infants (< 1 year of age), and still leads to several reported deaths in the Netherlands every year. In order to avoid pertussis-related infant morbidity and mortality, pertussis surveillance data are used to guide pertussis control measures. However, more insight into the accuracy of pertussis surveillance and control, and into the range of healthcare and public health-related factors that impede this are needed. We analysed a unique combination of data sources from one Dutch region of 1.1 million residents, including data from laboratory databases and local public health notifications between 2010 and 2013. This large study (n = 12,090 pertussis tests) reveals possible misdiagnoses, substantial under-notification (18%, 412/2,301 laboratory positive episodes) and a delay between patient symptoms and notification to the local public health services (median 34 days, interquartile range (IQR): 27–54). It is likely that the misdiagnoses, under-notification and overall delay in surveillance data are not unique to this area of the Netherlands, and are generalisable to other countries in Europe. In addition to preventive measures such as maternal immunisation, based on current findings, we further recommend greater adherence to testing guidelines, standardisation of test interpretation guidelines, use of automatic notification systems and earlier preventive measures.