Volume 22, Issue 29, 20/Jul/2017
Eurosurveillance - Volume 22, Issue 29, 20 July 2017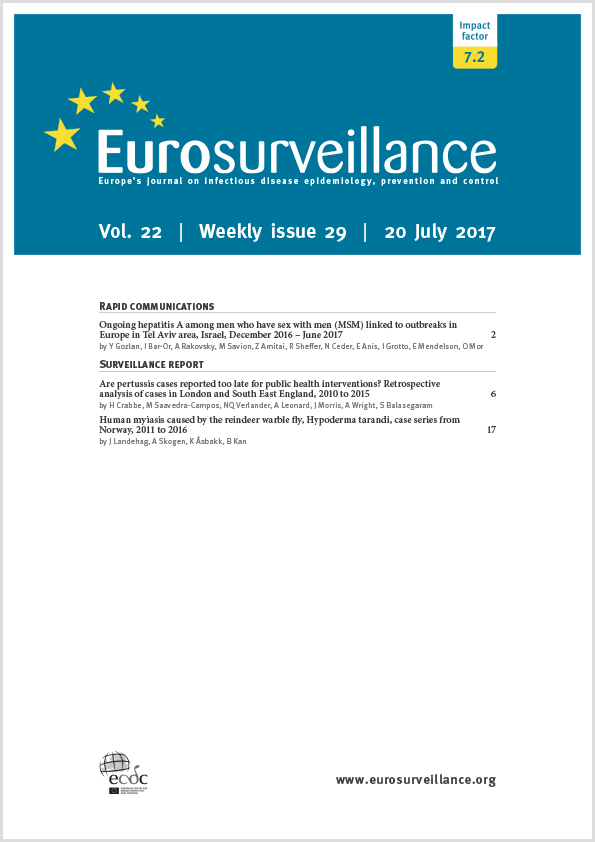 Rapid communication

More

Less

Between December 2016 and June 2017, 19 Hepatitis A virus (HAV)-positive cases, 17 of which were among men who have sex with men (MSM) were identified in the Tel Aviv area. Seven of the 15 sewage samples collected between January and June 2017 were also HAV-positive. All sequences clustered with two of the three strains identified in the current European HAV outbreak. We demonstrate that despite an efficient vaccination programme, HAV can still be transmitted to an unvaccinated high-risk population.
Surveillance and outbreak report

More

Less

In the United Kingdom, pertussis guidance recommends prophylaxis for household contacts within 21 days of case symptom onset if the household includes a vulnerable contact. The aim of our study was to identify characteristics associated with cases reported late for public health action. We reviewed the epidemiology of cases reported in London and South East England for the period 2010 to 2015. We characterised risk factors associated with late reporting of cases and described public health actions taken on timely reported cases. From 2010 to 2015, 9,163 cases of pertussis were reported to health protection teams. Only 11% of cases were reported within 21 days of onset, limiting opportunities for secondary prevention. Timely reporting was associated with younger age groups, pregnancy, being a healthcare worker and being reported by schools or hospital clinicians. Late reporting was associated with older age groups and general practitioner or laboratory reporting. Delays, such as those due to insidious onset and late presentation to healthcare, may be unavoidable; however, delay in reporting once a patient presents can be reduced since cases can be reported before laboratory confirmation. Thus we recommend working with clinicians and laboratories to determine causes and improve early reporting to public health.

More

Less

Hypoderma tarandi causes myiasis in reindeer and caribou (Rangifer tarandus spp.) in most northern hemisphere regions where these animals live. We report a series of 39 human myiasis cases caused by H. tarandi in Norway from 2011 to 2016. Thirty-two were residents of Finnmark, the northernmost county of Norway, one a visitor to Finnmark, and six lived in other counties of Norway where reindeer live. Clinical manifestations involved migratory dermal swellings of the face and head, enlargement of regional lymph nodes, and periorbital oedema, with or without eosinophilia. Most cases of human myiasis are seen in tropical and subtropical countries, and in tourists returning from such areas. Our findings demonstrate that myiasis caused by H. tarandi is more common than previously thought. Healthcare professionals in regions where there is a likelihood of human infestation with H. tarandi (regions populated by reindeer), or treating returning travellers, should be aware of the condition. All clinicians are advised to obtain a detailed travel history when assessing patients with migratory dermal swellings. On clinical suspicion, ivermectin should be given to prevent larval invasion of the eye (ophthalmomyiasis). Since H. tarandi oviposits on hair, we suggest wearing a hat as a prevention measure.
Victor M Corman , Olfert Landt , Marco Kaiser , Richard Molenkamp , Adam Meijer , Daniel KW Chu , Tobias Bleicker , Sebastian Brünink , Julia Schneider , Marie Luisa Schmidt , Daphne GJC Mulders , Bart L Haagmans , Bas van der Veer , Sharon van den Brink , Lisa Wijsman , Gabriel Goderski , Jean-Louis Romette , Joanna Ellis , Maria Zambon , Malik Peiris , Herman Goossens , Chantal Reusken , Marion PG Koopmans and Christian Drosten