Volume 22, Issue 48, 30/Nov/2017
Eurosurveillance - Volume 22, Issue 48, 30 November 2017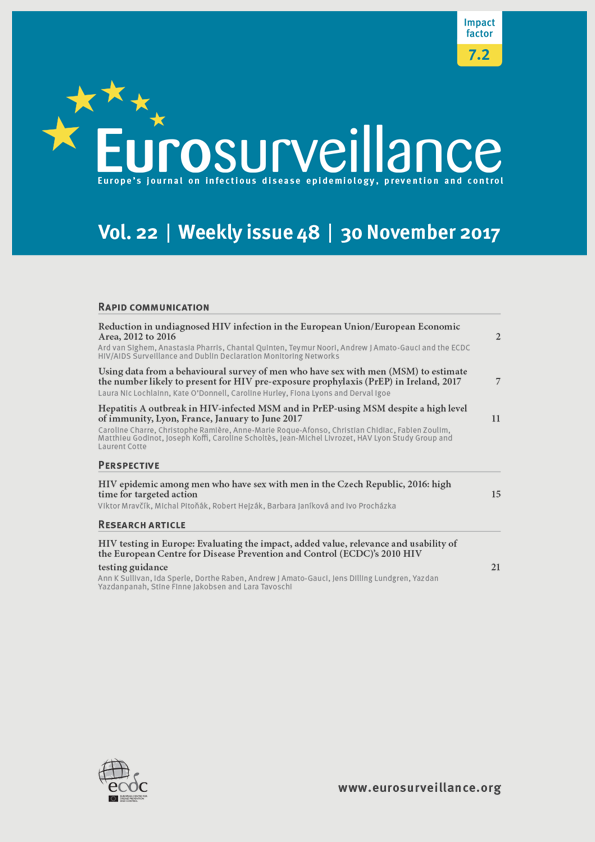 Rapid communication

More

Less

It is well-documented that early HIV diagnosis and linkage to care reduces morbidity and mortality as well as HIV transmission. We estimated the median time from HIV infection to diagnosis in the European Union/European Economic Area (EU/EEA) at 2.9 years in 2016, with regional variation. Despite evidence of a decline in the number of people living with undiagnosed HIV in the EU/EEA, many remain undiagnosed, including 33% with more advanced HIV infection (CD4 < 350 cells/mm3).

More

Less

In Ireland, men who have sex with men (MSM) have increased HIV risk. Pre-exposure prophylaxis (PrEP), combined with safe sex practices, can reduce HIV acquisition. We estimated MSM numbers likely to present for PrEP by applying French PrEP criteria to Irish MSM behavioural survey data. We adjusted for survey bias, calculated proportions accessing testing services and those likely to take PrEP. We estimated 1–3% of MSM in Ireland were likely to present for PrEP.

More

Less

Since 2016, an increase in the number of hepatitis A cases affecting mainly men who have sex with men (MSM) has been reported in low endemic countries in Europe. We calculated the attack rate in Lyon, France, in populations considered at high-risk: HIV-infected MSM and HIV-negative MSM receiving HIV pre-exposure prophylaxis (PrEP). In these populations, high level of immunity did not prevent the outbreak, indicating that vaccination should be reinforced, particularly in younger individuals.
Perspective

More

Less

Reported incidence of human immunodeficiency virus (HIV) infection in the Czech Republic increased steeply over the past decade from 90 new cases in 2005 to 266 in 2015. This increase is almost exclusively attributed to sexual transmissions between men who have sex with men (MSM). In 2015, there were 79% (n=210) newly diagnosed cases among MSM, 17% (n=45) were attributed to heterosexual transmission and 1% (n=3) to people who inject drugs. Interventions targeted at MSM have not yet been prioritised in the broadly focused national HIV prevention strategy which this is envisaged to change in the programme set out for 2018 to 2022. The national budget for HIV prevention has been reduced, however, and this remains. Availability of voluntary counselling and testing has decreased substantially in the past decade. Post- and pre-exposure prophylaxis for sexual intercourse among MSM are not part of the HIV prevention policy and the concept of treatment as prevention is not fully recognised. Provision of a combined prevention strategy with a focus on MSM, reflecting the above factors including stigmatisation, should contribute to reverse the development of a concentrated HIV epidemic among MSM in the Czech Republic.
Research article

More

Less

Background: An evaluation of the 2010 ECDC guidance on HIV testing, conducted in October 2015–January 2016, assessed its impact, added value, relevance and usability and the need for updated guidance. Methods: Data sources were two surveys: one for the primary target audience (health policymakers and decision makers, national programme managers and ECDC official contact points in the European Union/European Economic Area (EU/EEA) countries and one for a broader target audience (clinicians, civil society organisations and international public health agencies); two moderated focus group discussions  (17 participants each); webpage access data; a literature citation review; and an expert consultation (18 participants) to discuss the evaluation findings. Results: Twenty-three of 28 primary target audience and 31 of 51 broader target audience respondents indicated the guidance was the most relevant when compared with other international guidance. Primary target audience respondents in 11 of 23 countries reported that they had used the guidance in development, monitoring and/or evaluation of their national HIV testing policy, guidelines, programme and/or strategy, and 29 of 51 of the broader target audience respondents reported having used the guidance in their work. Both the primary and broader target audience considered it important or very important to have an EU/EEA-level HIV testing guidance (23/28 and 46/51, respectively). Conclusion: The guidance has been widely used to develop policies, guidelines, programmes and strategies in the EU/EEA and should be regularly updated due to continuous developments in the field in order to continue to serve as an important reference guidance in the region.