Volume 22, Issue 44, 02/Nov/2017
Eurosurveillance - Volume 22, Issue 44, 02 November 2017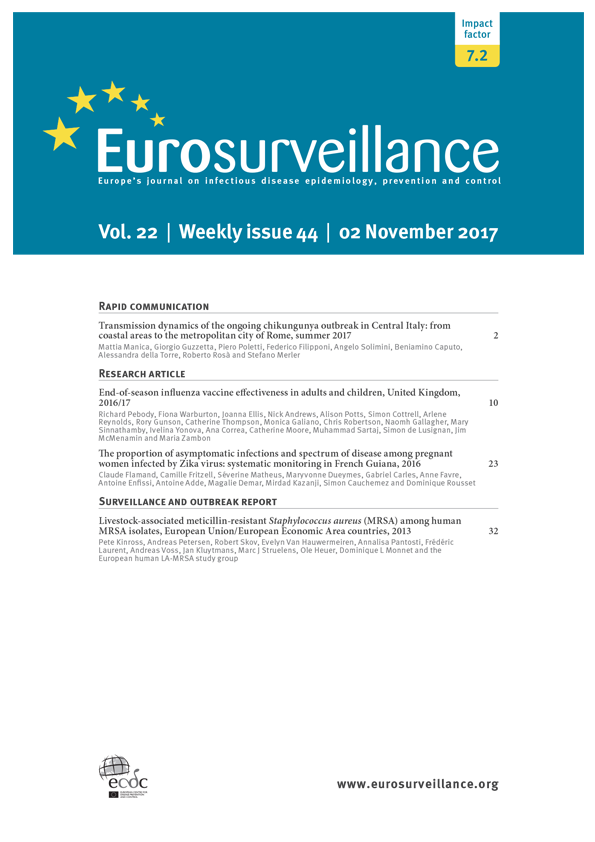 Rapid communication

More

Less

A large chikungunya outbreak is ongoing in Italy, with a main cluster in the Anzio coastal municipality. With preliminary epidemiological data, and a transmission model using mosquito abundance and biting rates, we estimated the basic reproduction number R0 at 2.07 (95% credible interval: 1.47–2.59) and the first case importation between 21 May and 18 June 2017. Outbreak risk was higher in coastal/rural sites than urban ones. Novel transmission foci could occur up to mid-November.
Research article

Richard Pebody , Fiona Warburton , Joanna Ellis , Nick Andrews , Alison Potts , Simon Cottrell , Arlene Reynolds , Rory Gunson , Catherine Thompson , Monica Galiano , Chris Robertson , Naomh Gallagher , Mary Sinnathamby , Ivelina Yonova , Ana Correa , Catherine Moore , Muhammad Sartaj , Simon de Lusignan , Jim McMenamin and Maria Zambon

More

Less

Introduction

The United Kingdom is in the fourth season of introducing a universal childhood influenza vaccine programme. The 2016/17 season saw early influenza A(H3N2) virus circulation with care home outbreaks and increased excess mortality particularly in those 65 years or older. Virus characterisation data indicated emergence of genetic clusters within the A(H3N2) 3C.2a group which the 2016/17 vaccine strain belonged to. Methods: The test-negative case–control (TNCC) design was used to estimate vaccine effectiveness (VE) against laboratory confirmed influenza in primary care. Results: Adjusted end-of-season vaccine effectiveness (aVE) estimates were 39.8% (95% confidence interval (CI): 23.1 to 52.8) against all influenza and 40.6% (95% CI: 19.0 to 56.3) in 18–64-year-olds, but no significant aVE in ≥ 65-year-olds. aVE was 65.8% (95% CI: 30.3 to 83.2) for 2–17-year-olds receiving quadrivalent live attenuated influenza vaccine. Discussion: The findings continue to provide support for the ongoing roll-out of the paediatric vaccine programme, with a need for ongoing evaluation. The importance of effective interventions to protect the ≥ 65-year-olds remains.

More

Less

Zika virus (ZIKV) infection has been associated with complications during pregnancy. Although the presence of symptoms might be a risk factor for complication, the proportion of ZIKV-infected pregnant women with symptoms remains unknown. Following the emergence of ZIKV in French Guiana, all pregnancies in the territory were monitored by RT-PCR and/or detection of ZIKV antibodies. Follow-up data collected during pregnancy monitoring interviews were analysed from 1 February to 1 June 2016. We enrolled 3,050 pregnant women aged 14–48 years and 573 (19%) had laboratory-confirmed ZIKV infection. Rash, arthralgia, myalgia and conjunctival hyperaemia were more frequently observed in ZIKV-positive women; 23% of them (95% confidence interval (CI): 20–27) had at least one symptom compatible with ZIKV infection. Women 30 years and older were significantly more likely to have symptoms than younger women (28% vs 20%). The proportion of symptomatic infections varied from 17% in the remote interior to 35% in the urbanised population near the coast (adjusted risk ratio: 1.6; 95% CI: 1.4–1.9.). These estimates put findings on cohorts of symptomatic ZIKV-positive pregnant women into the wider context of an epidemic with mainly asymptomatic infections. The proportion of symptomatic ZIKV infections appears to vary substantially between populations.
Surveillance and outbreak report

More

Less

Currently, surveillance of livestock-associated meticillin-resistant Staphylococcus aureus (LA-MRSA) in humans in Europe is not systematic but mainly event-based. In September 2014, the European Centre for Disease Prevention and Control (ECDC) initiated a questionnaire to collect data on the number of LA-MRSA from human samples (one isolate per patient) from national/regional reference laboratories in European Union/European Economic Area (EU/EEA) countries in 2013. Identification of LA-MRSA as clonal complex (CC) 398 by multilocus sequence typing (MLST) was preferred, although surrogate methods such as spa-typing were also accepted. The questionnaire was returned by 28 laboratories in 27 EU/EEA countries. Overall, LA-MRSA represented 3.9% of 13,756 typed MRSA human isolates, but it represented ≥ 10% in five countries (Belgium, Denmark, Spain, the Netherlands and Slovenia). Seven of the reference laboratories did not type MRSA isolates in 2013. To monitor the dispersion of LA-MRSA and facilitate targeted control measures, we advocate periodic systematic surveys or integrated multi-sectorial surveillance.
Victor M Corman , Olfert Landt , Marco Kaiser , Richard Molenkamp , Adam Meijer , Daniel KW Chu , Tobias Bleicker , Sebastian Brünink , Julia Schneider , Marie Luisa Schmidt , Daphne GJC Mulders , Bart L Haagmans , Bas van der Veer , Sharon van den Brink , Lisa Wijsman , Gabriel Goderski , Jean-Louis Romette , Joanna Ellis , Maria Zambon , Malik Peiris , Herman Goossens , Chantal Reusken , Marion PG Koopmans and Christian Drosten